Last updated on August 8th, 2023 at 09:41 am
Asset Microfinance Bank (MFB) is a financial institution that aims to establish youths in Nigeria. The institution empowers youth with better financial freedom by making loans more accessible. Basically, the company provides quicker, easier, more affordable, and safer loans to citizens of Nigeria.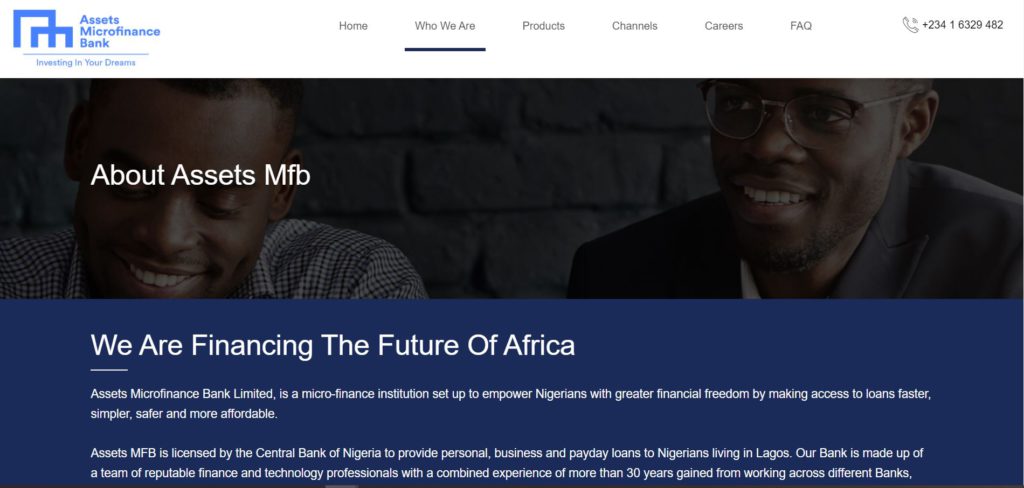 An Overview of Asset Microfinance Bank
Asset Microfinance Bank (MFB) is a limited liability company established in 2009 and based in Nigeria. The Central bank of Nigeria licensed them to offer loans to businesses and individuals living in Lagos. Also, the company boasts of having over 30 employees. Read more about microfinance banks in Nigeria here.
What Products does Asset Microfinance bank offer?
The company offers a variety of products. They include:
1. Loans
Asset Microfinance bank offers a variety of loans to individuals. These loans are fast and come with zero collateral and zero interest. The institution divides loans into four places to make them more suitable for customers. They include:
a. Microloan:
Asset Microfinance banks grant easily accessible to loans to small business owners. Basically, the loans granted range from 50,000 to 499,000. The features Of Microloan incudes:
No cheques for customers and guarantor
6% rate of interest
Tenor days of 180 days maximum
Admin fee of 1%
Stock hypothecation
b. Macro loans:
Basically, this loan is bigger than the microloan and also given to small business owners. Presently, it ranges from 500,000 – 1,000,000. The features of macro loans include:
Cheques required for customers and guarantor
5% rate of interest
Tenor days of 180-240 days maximum
Admin fee of 1%
Stock hypothecation
---
Get a loan up to N100,000 at the best affordable rates in Nigeria
Did you know that you can now you can compare interest rates from different lenders with our loan simulator and get the best deal? Making an informed loan decision requires comparing different loan offers before making a commitment. Through our simulator, you can see at a glance, loan offers coming from different lenders in less than 5 minutes, so you can make the right decision regarding your financing. Try it today
---
c. SME Loan:
This loan covers Small and Medium Scale Entrepreneurs. Assets Microfinance Bank grants SMEs quick and easy access to loans. Also, the loan amount ranges from N1, 000,000 – N5,000,000. The feature of SME loan includes:
Firstly, customers and guarantor's cheque
Stock hypothecation
Financial statement for corporate clients
5% rate of interest
Also, a 1% Admin fee
Important securities like a Motor vehicle or C of O)
Lastly, 180-240 days Maximum Tenor
d. Salary Advance Loan (SALO):
This loan takes care of salary earners in need of money for emergencies. Here, Asset Microfinance Bank answers all requests quickly with a competitive interest rate. Also, SALO is available to salary earners like bankers, Blue chip Companies, and other stable businesses
e. My Asset Financing (MAF):
MAF encourages customers to buy assets they need for their homes or businesses. Also, customers can make installment payments while they make the asset available for them to use.
f. School Support loan:
Basically, this loan is for schools and other people in the education sector. The loan amount for school support is between N50,000 – N5,000,000
g. Nano:
A loan platform that permits mobile phone users to enjoy Asset Microfinance Bank. However, the financial institution will recover from the customer's salary.
2. Savings
With savings, the Asset Microfinance bank helps you to keep and manage your money. Basically, it is similar to how we keep money using conventional banks. Here are the types of savings available to customers:
a. Asset Savings account:
You can open a savings account with Asset Microfinance Bank. This account gives you the benefit of a competitive interest rate. Also, it gives you easy and quick access to your money without forgoing your interest whenever you withdraw. Organizations, individuals, as well as associations, can open proof of all these before taking a loan.
b. My Target Savings
This product encourages the saving habit of prospective and existing clients. Basically, it exists for those who are willing to cultivate a healthy saving culture and earn returns on their investment.
How do I obtain a loan from Asset Microfinance Bank?
To obtain a loan, simply follow the process below:
Visit any of their official outlets in your community
Request to speak to a loan agent
Lastly, he loan agent would provide you with an application form and walk you through the process on how to apply
Read more on how to get loans from microfinance banks in Nigeria here.
You can obtain a comprehensive loan, tailored to your specific needs by using this platform. Basically, it allows you to compare loans from different lenders across Africa, ensuring the best option doesn't slip through.
How can I contact Asset Microfinance bank?
You can contact Asset Microfinance bank through any of the following means:
Address: 1b, Rockdrive, Lekki phase 1, Lagos Nigeria
Phone number: 08116329482
Website: www.assets-mfb.com
Bottom Line
From past records, Asset Microfinance Banks has been helping many youths. Their loan scheme has served as soothing relief in cases of emergencies. Also, their savings account has taught people how to save. Without a doubt, this bank is one you can trust.