Last updated on December 12th, 2022 at 06:33 am
The Northern region is well known to spearhead agricultural activities in Nigeria. Hence, the Federal Government of Nigeria has capitalized on this and provided a scheme to empower this region. The NECAS loan scheme is an initiative of the Federal Government/CBN that aims to empower farmers in the North-East region of Nigeria.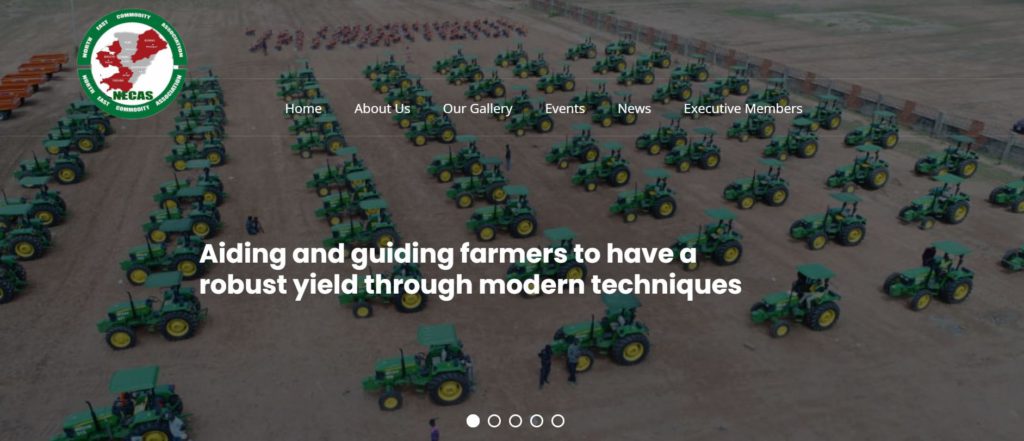 An Overview of NECAS
Just like the AGSMEIS Loan, North East Commodity Association, short for NECAS, is a Federal Government/CBN loan scheme for farmers. Basically, this initiative was incorporated in Nigeria to provide loans and other farming services to farmers in the North-East region of Nigeria. 
They provide Tractor Leasing as well as Mechanization services for farmers and other services. The major goal of this programme is to increase the farming output of farmers in the North-East region of Nigeria. To do this they plan to mechanize all farming activities to make the work easier and faster, thereby increasing crop production.
How can I apply for the NECAS Loan?
To apply for a farmers loan from NECAS and access other benefits, just do this:
1. Join the NECAS group around you. Note that you must be a farmer residing in the NorthEast region of Nigeria.
2. Next, become an active member by participating in all the activities in the group and attending meetings.
3. Lastly, wait until it is time to access loans. Once the loan is accessible, your group will inform you and you can apply for yours.
This loan scheme largely bears resemblance to the NG Cares Loan.
Must Read: Lapo Agric Loan – Everything You Need To Know
What are the eligibility requirements to obtain a NECAS loan?
To take out a loan from the NECAS initiative, you have to meet these criteria:
1. You must be a farmer residing in the NorthEast region of Nigeria.
2. Be an active member of the NECAS group
There are other requirements that may be set up by the group you belong to. Just make sure that you meet them so that you can apply for a loan when the Federal Government is ready to give out loans to your group.
---
Get a loan up to N100,000 at the best affordable rates in Nigeria
Did you know that you can now you can compare interest rates from different lenders with our loan simulator and get the best deal? Making an informed loan decision requires comparing different loan offers before making a commitment. Through our simulator, you can see at a glance, loan offers coming from different lenders in less than 5 minutes, so you can make the right decision regarding your financing. Try it today
---
What documents do I need to apply for the NECAS loan?
To join the NECAS group and apply for loans, you need your basic details like your name, phone number, address, email address, etc. Also, you will need a Valid Means of Identification and BVN to verify that your details are correct.
Interesting Read: How To Get Loans For Farmers In Nigeria (2022)
How can I contact NECAS?
You can contact NECAS via any of these ways:
Address: No 12 Bekaji Road Opposite Bekaji Primary School, Jimeta Yola, Adamawa State
Phone Number: 080-NECAS
Email Address: info@necas.com.ng
Website: www.necas.com.ng
Closing Thoughts
NECAS loan is a Federal Government/CBN loan initiative that is strictly for farmers in the North-East region of Nigeria. Therefore, only people who are farmers and residing in this region can access this loan. Also, this scheme provides machinery to make farming easier and faster, thereby increasing output. Essentially, this programme is extremely beneficial because it empowers farmers in the North-East region of Nigeria.
Do you need a loan? Be sure to visit this loan platform that allows you to compare loans from different lenders in minutes. It offers the best and ensures that you get nothing less.