Abbey mortgage bank exist to facilitate the acquisition of housing properties which is seen as a top priority by most Nigerians. Basically, owning a home remains a dream for a large portion of the Nigerian population for a number of reasons. This includes limited resources and poor finances to acquire properties in a single payment. However, with a top-tier institution like the Abbey mortgage bank, you can easily bring such a dream to reality.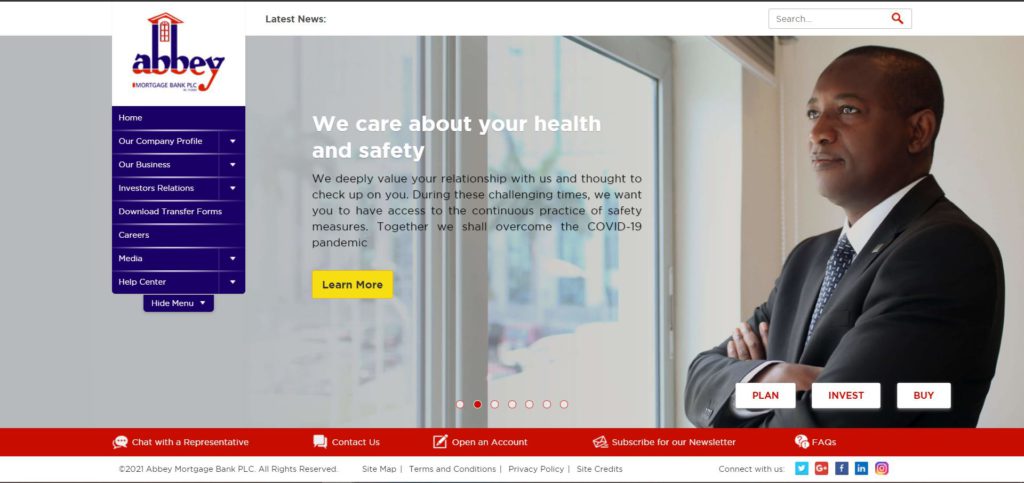 About Abbey mortgage bank
Being among the 70 primary mortgage banks (PMB) with a license from the Central Bank of Nigeria, and the Federal Mortgage Bank of Nigeria, Abbey mortgage bank is one of the top mortgage banks at the moment in the nation. Basically, the organization focuses on providing economic and affordable housing units for interested individuals, developers, and cooperatives who meet the criteria.
What does a mortgage bank do?
Basically, mortgage banks exist to facilitate loans related to housing and infrastructure. Also called mortgage loans, the bank provides these funds to individuals to help them acquire a property and allows them to repay it over a certain duration. In addition, most times, borrowers repay the loan with a pre-agreed interest to the bank.
What services does Abbey mortgage bank provide?
The services provided by Abbey mortgage bank include:
1. Retail banking
The retail banking services carters to the conventional needs that banks provide to customers. Therefore, it allows you to open an account for financial transactions including savings, deposits, or even a salary account.
2. Wholesale banking
Wholesale banking or more accurately captures as abbey cash management account caters to the needs of organizations in need of a corporate account. Also, it comes with several perks including the issuance of checkbook, no restriction on the number and amount of deposits, and more.
3. Mortgage banking
Mortgage banking is Abbey mortgage bank strongest point, as it caters to the need of those looking to obtain a loan for housing purposes. Basically, this service has three subcategories which are:
Lending and Mortgages (Wholesale)
Corporate mortgages
Real estate development
Construction loan
School loan
lastly, Mortgage administration scheme
Need a loan? Kindly check out this platform that allows you to compare loans from several lenders in minutes. This would help you make the best decision for you
Lending and Mortgages (Retail)
Personal mortgage
Staff housing loan
Equity release
National Housing Fund (NHF)
Personal loan and consumer finance
lastly, Mortgage Education
4. Electronic banking
Just like every modern bank, Abbey mortgage bank offers customers a platform to carry out electronic transactions for optimal comfort. Basically, you can do this through the USSD code *332# or through any ATM center near you.
How do obtain a loan from Abbey mortgage bank?
To obtain a loan, simply follow the steps below:
firstly, identify the type of loan you are interested in.
walk into the nearest Abbey mortgage bank near you and request to speak to a loan agent
Basically, the agent would hand you an application form, as well as a list of documents you are to provide
fill the application form and submit it alongside the necessary documents
Lastly, your agent would inform you on the success status of your application in due time.
---
Get a loan up to N100,000 at the best affordable rates in Nigeria
Did you know that you can now you can compare interest rates from different lenders with our loan simulator and get the best deal? Making an informed loan decision requires comparing different loan offers before making a commitment. Through our simulator, you can see at a glance, loan offers coming from different lenders in less than 5 minutes, so you can make the right decision regarding your financing. Try it today
---
How can I contact Abbey mortgage bank?
You can contact the bank through any of the following means:
Address: 23 Karimu Kotun Street, Victoria Island, Lagos, Nigeria.
Telephone: +2347080636000; +2347080636033; +2347080636025
Email: enquiries@abbeymortgagebank.com
Conclusion
Basically, as one of the top tiers mortgage banks in Nigeria, Abbey Mortgage Bank provides banking and mortgage loans to citizens. Therefore, all you need to do is walk into any of their branches to get started today.