Last updated on December 12th, 2022 at 06:32 am
If you own a business that needs money for its operations, apply for the NG Cares Loan package. The paragraphs below will teach you all you need to know about NG Cares and guide you on how you can apply for their loan package.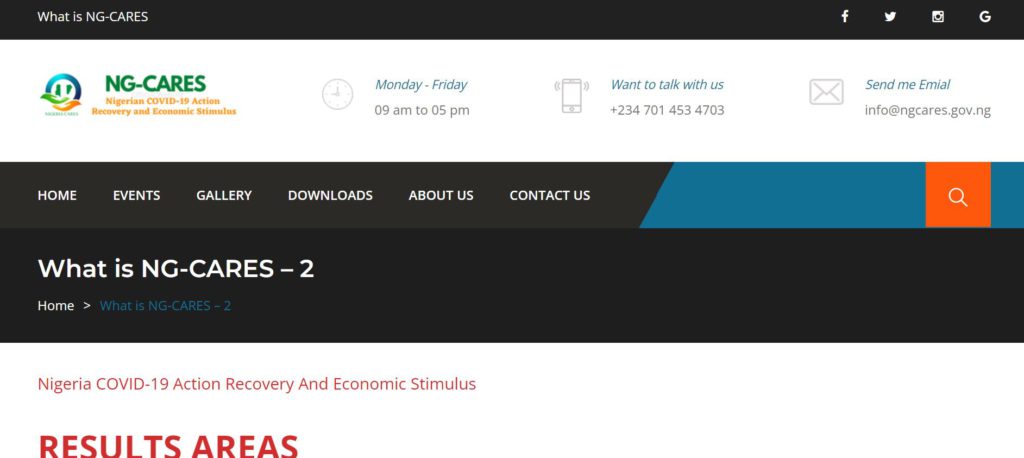 An Overview of NG Cares
Basically, NG Cares is a federal scheme that aims to help Nigerians who were affected by the Corona pandemic in 2020. National Covid-19 Action Recovery & Economic Stimulus, short for NG Cares, gives relief funds to businesses to help them grow.
The Federal Government initiated this scheme as a response to the terrible hardship that the COVID-19 pandemic caused. Also, it is a part of the vision the Federal Government has for Nigeria. They aim to lift at least 100 million Nigerian citizens out of poverty within a duration of ten years.
What are the eligibility requirements to obtain a loan from NG Cares?
Just like NECAS Loan, the scheme has some expectations from all businesses that will be a beneficiary. They include: 
1. Micro Businesses
Any micro business that wishes to benefit from this loan scheme, must have a minimum number of three employees. Basically, your number of employees must be between the ranges of 3-9.
2. Small Businesses
As for small-scale businesses that wish to benefit from NG CARES, they must have a minimum number of 10 employees. Their employee number should be between ten to fifty (10–50).
Read More: RIFAN Loan – How To Get Easy Access To Loans From RIFAN
What documents do I require to apply for an NG Cares loan?
The documents businesses require to apply for this Federal Government loan initiative include:
1. BVN printout (Your bank must stamp this for verification)
2. Proof of Business Operations such as your bank statement of account, Cash book, etc
3. Business CAC registration or TIN
4. Valid Means of Identification (Driver's license, Voters Card, or your NIN)
5. Evidence of your accurate age (You can either use your NIN, Voters Card, or Driver's license)
6. Means to confirm your residence (Voter's card or a recent utility bill).
---
Get a loan up to N100,000 at the best affordable rates in Nigeria
Did you know that you can now you can compare interest rates from different lenders with our loan simulator and get the best deal? Making an informed loan decision requires comparing different loan offers before making a commitment. Through our simulator, you can see at a glance, loan offers coming from different lenders in less than 5 minutes, so you can make the right decision regarding your financing. Try it today
---
How can I apply for the NG Cares Loan?
To apply for this Federal government loan scheme, follow these steps:
1. First, visit the link, https://www.ngcaresbusiness.org/
2. Next, select the state your business is located, then click on "Go To Portal"
3. Wait for the platform to take you to the official loan portal for the state you input. After you register, the scheme will verify your eligibility. If you are successful, they will contact you.
Alternatively, you can apply through some of your community heads. The Federal government has given some application forms to the following people:
Agents of NG CARES.
Community CDC chairman.
Community youth president.
Community women leaders.
You can just meet any of them and pick up your loan application form if you choose not to go through the online registration process.
Don't Miss: How To Apply For CBN Non-Interest Loan
How can I contact NG Cares?
You can contact NG Cares through any of these ways:
Address: No. 14 Mousa Crescent, Off Thomas Sankara Street, Asokoro, Abuja, Federal Capital Territory, Nigeria
Website: www.ngcares.gov.ng
Phone Number: +234 701 453 4703
Email Address: info@ngcares.gov.ng
Bottom Line
The NG Cares loan initiative is a loan package that the Federal Government has provided for businesses that the pandemic affected. To apply for this loan package, simply follow the easy steps above. This loan initiative is a welcomed one and a clear sign that the Nigerian Government cares about its citizens.
Do you need a loan? Be sure to visit this loan platform that allows you to compare loans from different lenders in minutes. It offers the best and ensures that you get nothing less.