The stress every entrepreneur faces from the day-to-day management of their business can be draining. Hence, a digitalized business management tool is necessary to alleviate some of this stress. Float is a credit and cash management digital platform for your business. Here is everything important detail you need to know about the organization.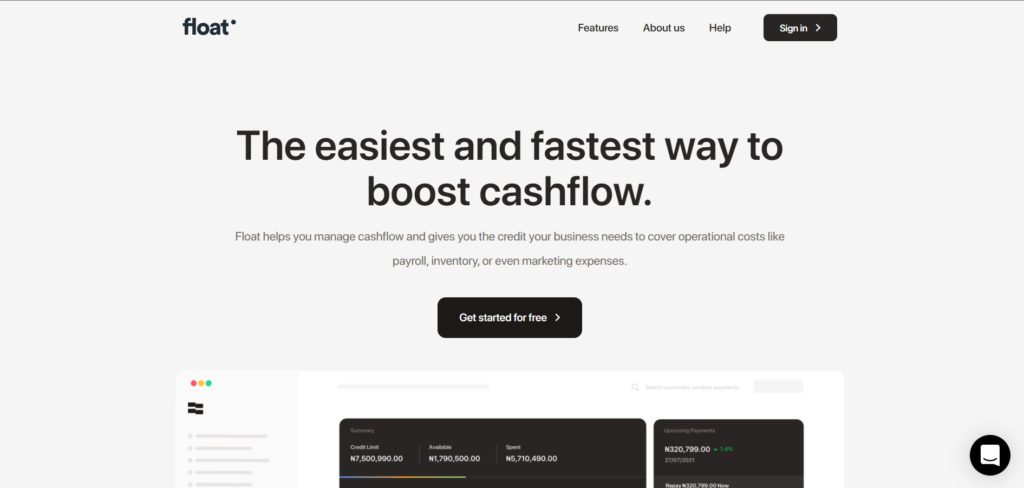 An Overview of Float
Float is an organization that helps to manage your business cash flow. Also, it offers you loans your business needs to cover costs like payroll, marketing expenses as well as inventory. Essentially, it acts as a financial manager for businesses.
The organization operates using a digital platform that combines cash management and credit software tools. Basically, this allows you to manage your business funds seamlessly and take credits to run your business. The platform is reputable for giving entrepreneurs instant credit without any stress involved. Read more on The Credit Bureau in Nigeria: Facts and Figure.
What services does Float offer?
Basically, the platform offers you two services. These services include:
1. Cash Management
The platform helps you to manage the cash flow of your business. You can open an account and allow it to do the major work for you. It helps you control funds and supercharges your payment workflow. The cash management feature gives you access to the following services:
a. Management of all your existing bank accounts in a single dashboard
The platform gives you a combined view of all your business-banking activities to enhance cash flow visibility. Also, this consolidated view allows you to skim through all your banking tasks so you can have more time to grow your business.
b. Easy Team Banking
You can give access to multiple users on your account. It also allows you to control the permission limit for every member of your business team. Additionally, you can keep records of tasks and payments in real-time.
The platform gives you access to a USD and NUBAN bank account, which you can use to make international payments.
---
Get a loan up to N100,000 at the best affordable rates in Nigeria
Did you know that you can now you can compare interest rates from different lenders with our loan simulator and get the best deal? Making an informed loan decision requires comparing different loan offers before making a commitment. Through our simulator, you can see at a glance, loan offers coming from different lenders in less than 5 minutes, so you can make the right decision regarding your financing. Try it today
---
2. Business Credit
Float gives you credit to offset the operational costs of your business. Hence, you do not need to worry about low cash inflow or running out of cash. This business credit is easy to process, fast and seamless. Additionally, the platform builds your credit report by reporting your payment consistency to Credit Bureaus and institutions. This helps to build their trust in you and your business.
Basically, the platform aims to use its business management and credit services to facilitate the seamless running of your business.
How can I register my business on Float?
To register your business on Float, follow the steps below:
1. Visit the website, www.float.africa
2. Next, touch the toolbar "Get Started For Free"
3. Input your details and other details related to your business on the registration form and submit.
4. Download the app and explore amazing services
Also, you can directly register your business via the mobile app. Just download it on your device, fill out the registration form and enjoy.
What requirements does my business need to register with Float?
To register your business with Float, it must meet the following requirements:
1. Your business has to be registered
2. No existing defaulted loans
3. You must have run the business for a minimum of 6 months and have N10M yearly turnover
Lastly, your business must have at least one existing bank account.
How can I download the Float mobile application?
To download Float mobile app, follow the steps below:
1. Visit the Google Play store on your android phone. If you use an iPhone, go to the App Store.
2. Search for 'Float' in the search bar
3. Download the app and register or log in.
How can I contact Float?
You can reach out to Float via the following ways:
Email Address: help@float.africa
Website: www.float.africa
Bottom line
Float digital platform is primarily a place to manage your business. Basically, it helps you to monitor the income and growth of the business. Another advantage of using it is that you get access to credit for your business. In all, the platform is suitable for all businesses.
Need a loan? Kindly check out this platform that allows you to compare loans from several lenders in minutes. This would help you make the best decision for you.