Asset Management Corporation of Nigeria (AMCON) is a financial institution established by the federal government of Nigeria. The organization aims to stabilize the financial system of Nigeria. Basically, they achieve this by settling any default loan assets of banks in the Nigerian economy.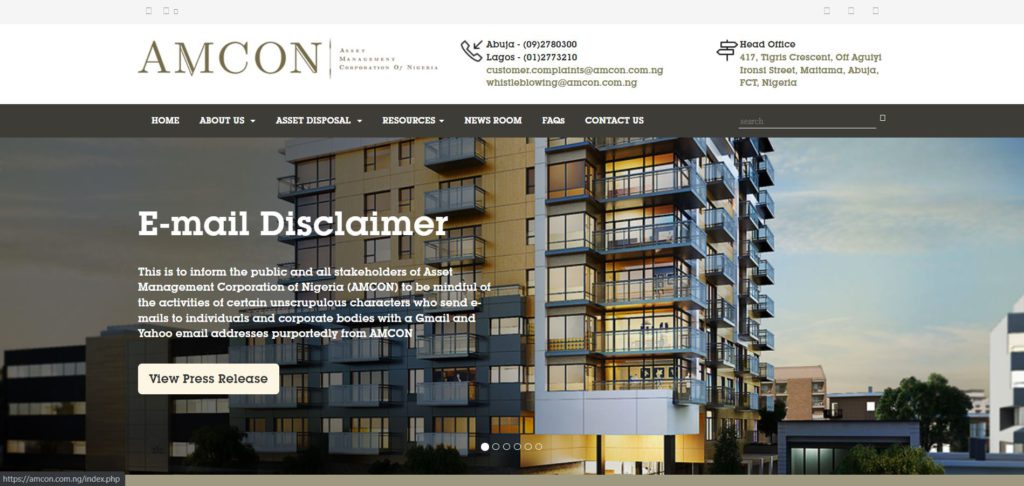 An Overview of AMCON
On 19th July 2010, the President of the Federal Republic of Nigeria passed the AMCON Act into Law. This led to the establishment of the Asset Management Corporation of Nigeria (AMCON). The corporation aims to maintain balance and revive the financial sector of the Nigerian economy.
At the inception of this organization, the body discovered 10 banks with problems in their system asset. They resolved this by infusing N736 billion to acquire their asset. However, three out of the 10 banks could not meet up. AMCON acquired these three banks and labeled them as Bridged Banks. The three banks affected include Keystone Bank, Enterprise Bank, and Mainstreet Bank. Also, AMCON boasts of acquiring the default loans of many reputable financial institutions in Nigeria.  
What are the requirements to buy assets from AMCON?
It is no longer news that AMCON has put up some of its assets for sale. Basically, for an individual or corporate entity to be eligible to acquire an asset, they must fulfill the following criteria:
1. The individual or company must not owe AMCON any outstanding debt.
2. The directors of such companies must not owe AMCON any outstanding debt
3. The individual interested must not be an AMCON employee, a member of the Board of AMCON, or a relative to an AMCON employee.
Basically, an individual or a company becomes eligible to buy assets from AMCON after meeting these criteria.
---
Get a loan up to N100,000 at the best affordable rates in Nigeria
Did you know that you can now you can compare interest rates from different lenders with our loan simulator and get the best deal? Making an informed loan decision requires comparing different loan offers before making a commitment. Through our simulator, you can see at a glance, loan offers coming from different lenders in less than 5 minutes, so you can make the right decision regarding your financing. Try it today
---
How can I Bid for AMCON assets?
To make a bid for AMCON asset, you have to download the following documents from their website:
1. The AMCON Bid submission form.
2. The know your Client (KYC) form
3. The affidavit verification form
Thereafter, you have to fill all forms and attach all documents needed to process the form. After completing the form, submit it to the secretary of the AMCON Asset Sales & Negotiation Committee.
What happens if I submit a Bid after the Bid submission deadline?
If you submit a bid after the bid submission deadline, AMCON will not accept it. Therefore, you must ensure you submit your bid before the bid submission deadline.
Is it possible for me to Bid for more than one asset in an AMCON bidding exercise?
Yes, it is possible to bid for more than one asset in a bidding exercise. However, you will need a separate set of documents and bank drafts for each submission. This simply means that for every bid you make AMCON will require a new bid submission.
Can I cancel my bid after I submit it?
No, it is not acceptable to cancel your bid after submission. After submission, you cannot withdraw or cancel your bid and just have to see it through.
Where and when will AMCON Bid opening take place?
All bids opening takes place at AMCON branches in Lagos and Abuja. The corporation announces and gives details of all bid openings in the newspapers.
Also read more on Federal Mortgage Bank of Nigeria Review – How to access FMBN loans in Nigeria.
What happens if I win the AMCON bid?
After you win the bid, AMCON will give you a duration of 15 days from the day you win. This period is for you to pay up the outstanding 90% debt for the asset you want to acquire. Also, your 10% initial deposit will constitute part payment for the asset.
You can obtain a comprehensive loan, tailored to your specific needs by using this platform. Basically, it allows you to compare loans from different lenders across Africa, ensuring the best option doesn't slip through.
How can I contact AMCON?
You can contact AMCON through the following ways:
Address: Head Office- 417, Tigris Crescent, Off Aguiyi Ironsi Street, Maitama, Abuja, FCT, Nigeria
Lagos Office: 67, Marina Street, Lagos Island, Lagos, Nigeria
Phone number: Abuja- (09)2780300, Lagos- (01)2773210
Website: www.amcon.com.ng
Bottom line
Over the years, AMCON has been helping to stabilize the economy of Nigeria. Its presence has greatly influenced the economy. Also, it is a means of investment for individuals and companies. If you are seeking a good investment, buying an AMCON asset is a great idea.