Housing is one of the most important aspects of human existence, as literally everyone needs a roof over their head. Basically, this is what the Federal Mortgage Bank of Nigeria (FMBN) was established for, ensuring reliable and affordable access to homeownership in Nigeria. However, many Nigerians do no maximize this opportunity, as with the right information, the Federal Mortgage Bank of Nigeria offers an easier way to become a property owner.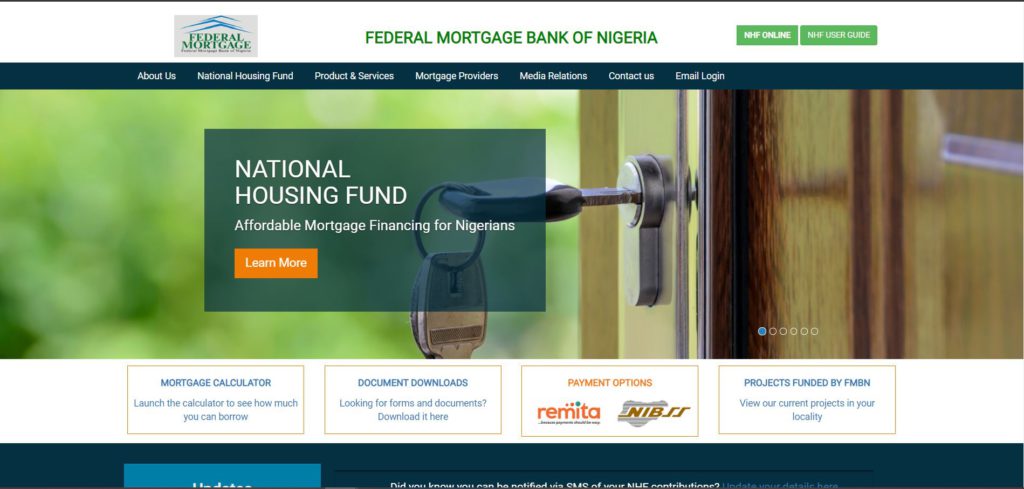 What does the federal Mortgage bank of Nigeria do?
The Federal Mortgage Bank of Nigeria has a single goal, which is to enhance the delivery of affordable and easily accessible homeownership in the country. Basically, the organization does this through sustainable liquidity and innovative products and services. Also, excellent customer service remains a strong pillar of the organization.
According to an official release by the Federal Mortgage Bank of Nigeria, their mandates include:
Provide long-term credit facilities to mortgage institutions in Nigeria.
Encourage the emergence and promote the growth of viable primary and secondary mortgage institutions to service the need for housing delivery in all parts of Nigeria.
Mobilizing both domestic and offshore funds into the housing sector.
Link the capital market with the housing industry.
Establish and operate a viable secondary mortgage market.
Collect and administer the National Housing Fund in accordance with the provisions of the NHF Act.
Do anything and enter into any transaction which in the opinion of the Board is necessary to ensure the proper performance of its functions under the FMBN Act.
---
Get a loan up to N100,000 at the best affordable rates in Nigeria
Did you know that you can now you can compare interest rates from different lenders with our loan simulator and get the best deal? Making an informed loan decision requires comparing different loan offers before making a commitment. Through our simulator, you can see at a glance, loan offers coming from different lenders in less than 5 minutes, so you can make the right decision regarding your financing. Try it today
---
What services does the Federal Mortgage Bank of Nigeria provide?
The Federal Mortgage Bank of Nigeria provides the following services:
1. NHF Loan
The NHF loan grants access to accredited Primary Mortgage Banks (PMBs) at a 4% interest rate, who in turn lends at a 6% interest rate to contributors. Also, the loan comes with a maximum tenor of 30 years and is secured by the mortgaged property. As a contributor, you can access up to N15 million through an accredited PMB to build, renovate or purchase your own home. However, you have to fulfill the obligation of being an active continuous contributor for 6 months.
2. Estate Development Loan
With estate development loans private developers can obtain funds to bridge the housing deficit currently facing the country. Basically, you do this through the mass production of houses for ownership by NHF contributors. However, the loan comes with a 10% interest and a maximum tenor of 24 months. As one of the bank's general policies, the houses should not exceed N15 million in price and can only be sold to NHF contributors.
3. Rent to Own
This scheme embodies an easy and convenient payment plan towards house ownership for Nigerian workers. Basically, it makes it possible for you as a worker to move into FMBN loans as tenants and pay for its ownership through a predetermined payment plan. However, the rent to own has a maximum payment tenor of 30 years.
4. Home Renovation loan
With the home renovation loan, you can access funds to improve your already owned house. However, just like the services before it, you can only access the funds as a contributor to the National Housing Fund. Also, keep in mind that the house must be yours or for a close family member.
Do you need a loan? Be sure to visit this loan platform that allows you to compare loans from different lenders in minutes. It offers the best and ensures that you get nothing less.
5. Construction Loan
Construction loan carters to Nigerians who are in need of funds to construct their homes. The property, however, must belong to you or a close family relative. Also, you have to be a major NHF contributor to access the loan.
6. Diaspora NHF Mortgage loan
The diaspora loan is for those living outside Nigeria. Basically, it offers them a chance to register and benefit from the NHF scheme as contributors. Also, you can access the loan benefits attached to being an NHF contributor.
What document do I require to access the Federal Mortgage Bank of Nigeria loan?
Generally, you require the following documents:
Completed application form.
Photocopy of title documents
Current valuation report on the proposed house to buy or bills of quantities (BOQ) for the house to build.
Three years tax clearance certificate.
Evidence of NHF participation
Copy of pay-slips for the previous three months.
Equity contribution or personal stake depending on the loan amount applied for.
How do I access my federal mortgage in Nigeria?
Basically, to access your Federal Mortgage Bank of Nigeria loan, you have to take the following steps:
Compile a list of all the required documents as stated above
Apply through a registered mortgage loan originator (primary mortgage banks).
On application, the bank would compile the list of contributors' requests and forwards them to the FMBN.
Wait for a response on whether your loan application was successful or not
How can I contact the Federal Mortgage Bank of Nigeria?
You can contact FMBN through any of the following means:
Office address:
Federal Mortgage Bank of Nigeria
266 Cadastral AO, Central Business District
PMB 2273 Garki, Abuja. Nigeria
Phone:
09-2920689, 09-2920690
09087973000, 08170237904
Email address:
info@fmbn.gov.ng
Conclusion
The Federal Mortgage Bank of Nigeria ensures that Nigerians have an easy path to homeownership. Therefore, you can easily obtain a loan under any of the specified services as long as you are a contributor.