The high unemployment rate has made it necessary for every Nigerian youth to seek self-employment. However, self-employment needs financing for it to operate smoothly. This is where loans come to play. With the TIES loan, every Nigerian graduate can secure instant loans to run their businesses.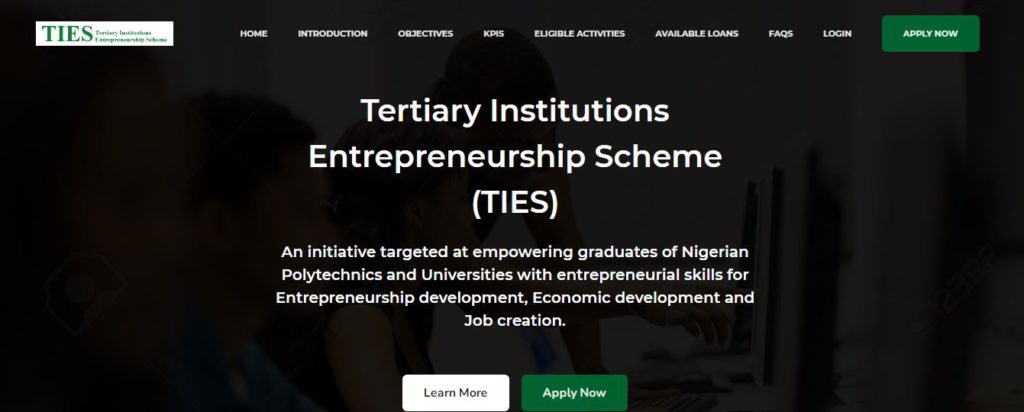 An Overview of Tertiary Institutions Entrepreneurship Scheme (TIES)
Tertiary Institutions Entrepreneurship Scheme (TIES) is a scheme that offers both Nigerian graduates and undergraduates access to loans. The Central Bank of Nigeria (CBN) introduced the scheme in 2021 to help graduates and undergraduates who may need capital to start a business. 
TIES aims to shift graduates and undergraduates away from pursuing white-collar jobs to embracing entrepreneurship for job creation and economic development. 
How can I apply for the TIES Loan?
Here are the instructions to follow if you want to apply for it:
1. Follow this link to go directly to their web platform https://cbnties.com.ng
2. Next, tap "Apply Now"
3. Thereafter, input the right details in the registration form, validate your request, and submit it. You'll wait for them to respond to you.
Read More: Ways To Grow Your Business With A Loan
---
Get a loan up to N100,000 at the best affordable rates in Nigeria
Did you know that you can now you can compare interest rates from different lenders with our loan simulator and get the best deal? Making an informed loan decision requires comparing different loan offers before making a commitment. Through our simulator, you can see at a glance, loan offers coming from different lenders in less than 5 minutes, so you can make the right decision regarding your financing. Try it today
---
Who is eligible for the TIES loan?
The Government will consider only people who have a Nigerian university or polytechnic degree. Also, they will prioritise innovative entrepreneurial activities that have high prospects for export, job creation, as well as transformational impact.
Interesting Read: How To Apply For CBN Non-Interest Loan
What businesses are eligible to apply for TIES?
The business activities that TIES covers include:
1. Agribusiness – harvesting, processing, storage as well as logistics
2. Information technology – software/application development, data management, robotics, business process outsourcing
3. Creative industry – entertainment, publishing, artwork, culinary/event management, photography, fashion, beauty/cosmetics
4. Science and technology – medical innovation,, ticketing systems, robotics, renewable energy, traffic systems, waste management
Hence, your business must belong to any of the groups above to be eligible for TIES as a graduate or undergraduate
What documents do I need to apply for TIES loan?
To apply for this timely loan, you require these important documents:
1. First-degree certificate (BSc or HND or any of its equivalent)
2. National Youth Service Certificate (NYSC) discharge certificate or exemption certificate
3. Certificate of Participation your polytechnics and universities issues showing proof of your entrepreneurship training
4. Your Statement of Income, Statement of Affairs, as well as cash flow projections for both start-ups and businesses with not more than 3 years of operations
5. Business plan delineating details, financials, as well as the economic advantages of the projects
Note: You must not be over 7 years post-NYSC.
What is the maximum amount I can access under the TIES?
Here is a least of the loan amounts you can access TIES based on your level:
1. Tier 1 (Individual projects): Your loan limit is N5Million with a tenor of only 5 years.
2. Tier 2 (Partnership / Company projects with at most 5 individual partners): Your loan limit is N25 million for a tenor of only 5 years.
What is the interest rate for TIES?
The interest rate for any graduate or undergraduate accessing the TIES is 5% from this moment to February 2023. However, it will increase to 9% from March 2023.
How can I contact TIES (Tertiary Institutions Entrepreneurship Scheme)?
Here is a direct link to contact https://cbnties.com.ng/contact. Input your details and question, then send it. They will reply shortly after this. 
Website: www.cbnties.com.ng
Bottom Line
TIES loan is a unique loan special designed to finance graduates and undergraduates who own businesses. Basically, the purpose of this scheme is to promote entrepreneurship development for the sake of job creation. To apply for the TIES, go through the information above. However, you must note that the scheme is only for graduates and undergraduates of Nigerian universities and polytechnics. 
Do you need a loan? Be sure to visit this loan platform that allows you to compare loans from different lenders in minutes. It offers the best and ensures that you get nothing less.