Last updated on December 12th, 2022 at 06:46 am
Do you have pressing needs but don't have enough money to afford them currently? The CredPal platform can help you out of this situation. Basically, this tech platform provides you with access to buy your essential daily items on credit. Hence, you buy now and pay for it conveniently in instalments. Read further to see a guideline on how to buy and pay later on this platform.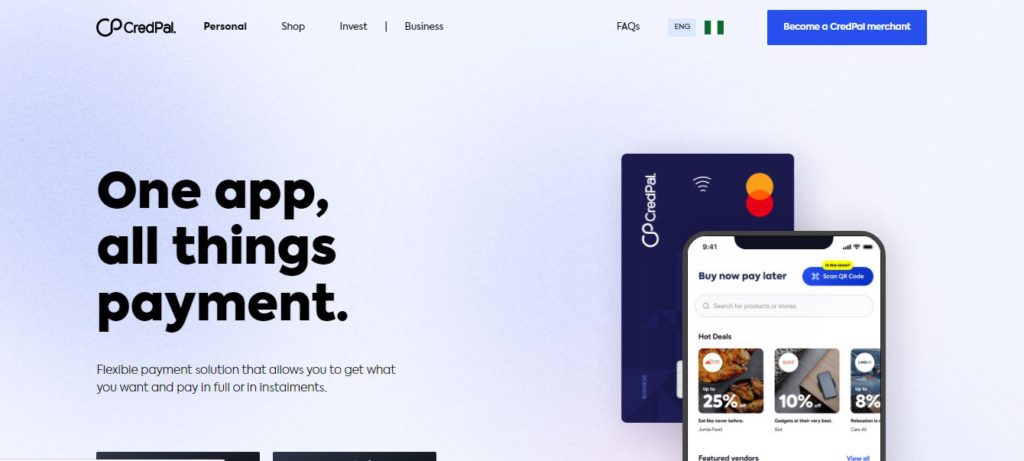 An Overview of CredPal
CredPal is a Nigerian tech organization that enables consumers to purchase any item across numerous online and offline vendors and pay for this item in installments. Basically, this credit service enables you to buy anything you need on credit and pay it back with convenience. Also, they offer their customers investment services with as high as 18% returns. This organisation's services are fully licensed and controlled by the CBN so you are certainly in safe hands.
What services does CredPal offer?
As stated above, this tech company primarily offers credit and investment services. Here's how it works:
1. Buy and pay later
You can buy your essentials from the platform's verified merchants and pay for them back in instalments. You are allowed to spread your payment over the space of 2-6 months.
2. Fixed Earnings
The fixed earnings feature enables you to save your money and receive mouthwatering returns while still settling your urgent expenses with credit.
3. Merchants Onboarding
As an entrepreneur, you can partner with this platform and become a verified merchant. Basically, when you become a merchant, your business will be listed on the platform and customers can shop from you with ease.
Recommended: IPPIS Loan – How to obtain an IPPIS Loan as a Nigerian Civil Servant
How can I shop on credit on Credpal?
To shop on credit via their web platform, follow the steps below:
1. Open their official website on your browser.
2. Next, find "shop" on the menu and open it
3. You will see a list of the various merchants in partnership with the platform. Shop from anyone of your choice.
---
Get a loan up to N100,000 at the best affordable rates in Nigeria
Did you know that you can now you can compare interest rates from different lenders with our loan simulator and get the best deal? Making an informed loan decision requires comparing different loan offers before making a commitment. Through our simulator, you can see at a glance, loan offers coming from different lenders in less than 5 minutes, so you can make the right decision regarding your financing. Try it today
---
What is the interest rate?
With this platform, you can purchase your essentials now and pay later with 0% interest. However, you have to pay for whatever you buy in 2-6 months.
Read More: How To Reduce Loan Interest Rate
How can I become a CredPal merchant?
To become a merchant on this platform, you need to signup for a business account. Just do this:
1. First, visit the website. You will find a link to their official website below.
2. Next, open the menu bar and tap on "Become a CredPal Merchant"
3. Fill in the merchant application form correctly and tap "Sign Up". Thereafter, you can follow the subsequent instructions.
What documents do I need to register on this platform?
To sign up on this platform successfully, you need to provide your basic details, such as:
1. First Name
2. Last Name
3. Business Name
4. Phone Number
5. Email Address
How can I start investing with CredPal?
To commence your investment journey on this platform, do this:
1. Visit their website
2. Next, tap on "Fixed Earnings"
3. Thereafter, enter your basic information and submit it. Alternatively, you can download the mobile app and follow these same steps.
Read More: Companies With Lowest Loan Interest Rate In Nigeria
What is the interest rate?
The interest rate on this tech platform is 18%. Hence, you can start wealth and secure your future with a fixed deposit investment with 18% returns.
How can I download the CredPal app?
Downloading this quick credit app is very easy. Here's how to go about it fast:
1. Go through your android phone and open the Google Play Store app. However, if you own an iOS device, simply launch the "App Store" mobile app.
2. Next, search for "CredPal"
3. Download the app, create an account and you are good to go.
How can I contact CredPal?
You can contact the CredPal company via these ways:
Address: 75b Olonode Street, Off Spencer St, Alagomeji-Yaba, Lagos
Email Address: hello@credpal.com
Website: www.credpal.com
Phone Number: 01 700 7999
Bottom Line
The CredPal platform gives you access to purchase your everyday essentials on credit. Also, it serves as an investment platform that offers you up to 18% on your investments. This platform is also regulated by CBN so you do not have to worry about scammers. To access these mouthwatering and unique services, read more about them in the guide above.
Do you need a loan? Be sure to visit this loan platform that allows you to compare loans from different lenders in minutes. It offers the best and ensures that you get nothing less.