Last updated on August 9th, 2023 at 04:22 pm
Digital Banks are the more convenient way of executing banking transactions. Basically, they allow you to perform transactions easily, seamlessly, and stress-free. GladePay is a reputable digital bank in Nigeria. Here is a summary of everything you need to know about the financial organization.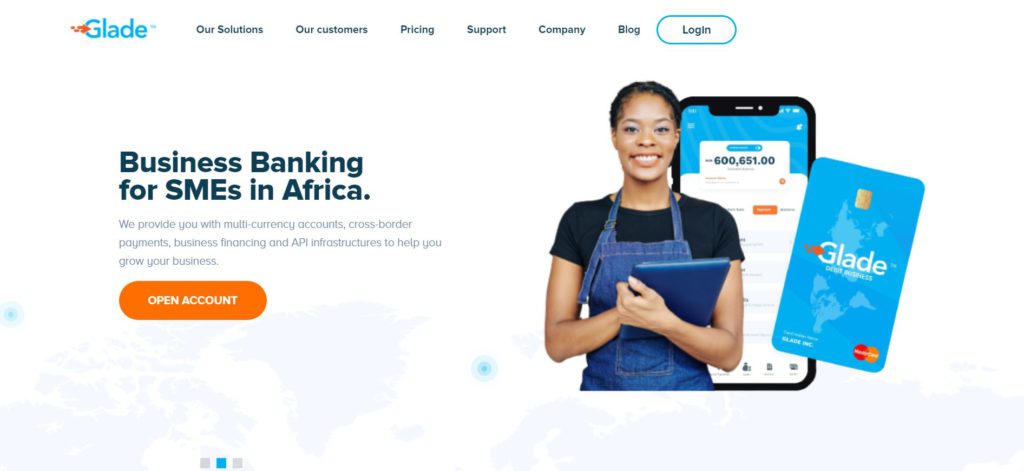 An Overview of Glade
Glade is a financial technology organization that provides banking services for small businesses with cross-border payments, multi-currency accounts, integrations, business financing, as well as global API infrastructure. Basically, the company provides modern business banking services to small businesses, freelancers, and startups in Africa.
The privately-held financial institution was founded in 2019 and offers financial services to Nigerians and Africans at large. The company supports businesses with the unique solutions they provide via their digital platform.
What services does Glade offer?
Basically, Glade offers business various solutions. They include:
1. Business Banking
The banking platform allows you to create a business current account specially designed for small businesses, freelancers, and start-ups.
Additionally, you can effortlessly manage your accounts, funds, and transactions on their user-friendly platform. This platform is available on web and mobile applications.
Also, read on How lending companies make profit.
2. Glade POS
Basically, the Glade POS allows you to receive payment from your customer through POS at low rates. As a Glade POS agent, you can earn an extra income by providing POS services to your neighborhood.
3. Glade Store
With Glade store solution, you can set up your digital store in minutes at zero charges. Basically, you can upload inventory, product images, delivery prices, as well as set products, and start selling in a few minutes.
4. GladePay
GladePay is a digital payment gateway that helps businesses to make and receive payments from their various customers.
Basically, the financial platform offers these services to small businesses, freelancers, and startups. Also, read on How to start a money lending business in Nigeria.
---
Get a loan up to N100,000 at the best affordable rates in Nigeria
Did you know that you can now you can compare interest rates from different lenders with our loan simulator and get the best deal? Making an informed loan decision requires comparing different loan offers before making a commitment. Through our simulator, you can see at a glance, loan offers coming from different lenders in less than 5 minutes, so you can make the right decision regarding your financing. Try it today
---
How can I open an account with Glade?
To open an account for your business, follow the steps below:
1. Visit the website, www.glade.ng
2. Next, tap the "Open an Account" toolbar
3. Input your details and submit the registration form
Also, you can register via the Glade mobile app. You just have to download the app and register.
Read also: Mono – A secure open banking platform for businesses
What are the documents required to register on GladePay?
You need the following documents to register on GladePay's banking platform:
1. Your Valid BVN
2. A recent Utility Bill (Nepa Bill, Waste Bill or Water Bill)
3. Your CAC Business Registration Documents
Lastly, you need a valid Identity card like your International Passport, Voters card or National ID Card
How can I get a Glade POS Device?
To get a Glade POS Device, just send a request to get the POS via Glade's website or mobile app. Thereafter, you need to wait for their team to contact you.
What can make me eligible to borrow a loan from GladePay?
To become eligible to borrow a loan from Glade, you have to make monthly business transactions regularly. The platform will notify you once you become eligible.
How can I download the Glade app?
Here are steps to follow if you need to download the Glade app:
1. Open the Google Play Store on your Android device. If you use an iOS device, visit the App Store.
2. Search for 'Glade' in the search bar
Lastly, Download, launch the app, and open an account.
How can I contact GladePay?
You can contact Glade through the following ways:
Address: 2 Crown Court Estate 2, Oniru Victoria Island Lagos.
Phone Number: +234 817 557 4227
Email Address: support@glade.ng
Website: www.glade.ng
Check out: Sparkle – Everything you need to know
Bottom Line
GladePay is primarily a digital bank. It offers a platform for startups, freelancers as well as small businesses to perform bank transactions and experience full banking services. In all, the Glade platform is very beneficial for Nigerian businesses.
Do you need a loan? Be sure to visit this loan platform that allows you to compare loans from different lenders in minutes. It offers the best and ensures that you get nothing less.