Finance is one major aspect every business owner needs to know how to manage and regulate to successfully run their business. According to Bola Adigun, a financial expert, 80% of businesses that collapsed in the country failed due to poor financial management practices. Hence, financial management needs to be taken very seriously. Fortunately, there is an easy way out. Mono is a company that provides businesses with the tools to manage their finances effectively. With this platform, your financial management worries are over.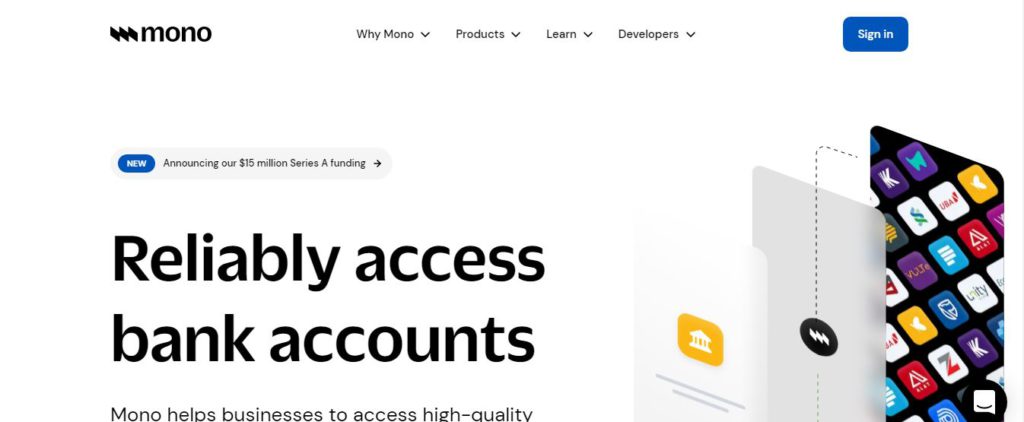 An Overview of Mono
Mono is a company that assists businesses to gain access to direct bank payments and high-quality financial data. Basically, the organization achieves this by creating an API financial platform that helps small and large-scale businesses to collect and regulate bank transfer payments.
The privately held company was founded in 2020 by two partners, Abdulhamid Hassan, and Prakhar Singh. It has its headquarters located in Lagos, Nigeria. With this financial platform, your company can manage all of its bank payments.
What products does Mono offer?
The company offers the following products to businesses:
1. Connect
The connect service allows you to access real-time financial data. Basically, you gain access to all your customers' transactions, bank statements, identity, income, and many more.
2. DirectPay
DirectPay enables you to make Instant and seamless bank-to-bank payments. Therefore, it becomes easy to receive bank transfer payments from your customers, through your app.
3. Portal
Portal lets you take charge of your financial data. Basically, this allows you to control all connections you make with your favourite apps.
4. Statement Pages
This product provides you with an easy way to take records of your customers' bank statements without any coding.
5. DirectPay Pages
This product enables you to receive payments without coding. Basically, you can collect payments through direct bank transfer in just a few minutes.
6. Percept
Percept makes it easy for you to get a clear and transparent view of your business' finances, process payouts, manage all its corporate bank accounts, and handle reconciliation, all in one platform.
---

Get a loan up to N100,000 at the best affordable rates in Nigeria
Did you know that you can now you can compare interest rates from different lenders with our loan simulator and get the best deal? Making an informed loan decision requires comparing different loan offers before making a commitment. Through our simulator, you can see at a glance, loan offers coming from different lenders in less than 5 minutes, so you can make the right decision regarding your financing. Try it today
---
How can I register on Mono?
Here's how you can signup on this platform:
1. Visit their website. You will see a link to their official website below.
2. Next, tap on 'Get started for free'
3. Input your name, country, the name of your company, your work email, and create a password for your account.
Thereafter, cross-check your basic details and click on 'create my account'
Read Also, Banks offering instant loans without collateral in Nigeria.
What documents do I need to register on Mono?
To register your business on this platform, you need the name of your company and your work email address. Also, you will need other important details about your company for verification.
What is the pricing on Mono?
Basically, the pricing on this platform varies depending on the type of account you open. Your account type depends on how large your business is. For more details on the pricing based on your account type, visit their official website.
Read Also, Which banks easily give loans in Nigeria?
Does Mono have a mobile app?
No, the company does not have an app yet. However, businesses can access all of their products on their platform. Just sign up and you are good to go!
How can I contact Mono?
You can contact Mono through any of the following ways:
Address: 8 Professor Gabriel Olusanya St
Lekki Phase 1, Lagos 106104, NG
Website: www.mono.co
Email Address: hi@mono.co
Bottom Line
Mono is a company that helps other businesses to manage their finances. Basically, their platform gives you access to products that help you to run and manage bank transfer payments for your business. Also, the platform's seamless interface is another added advantage. With this platform, your company can seamlessly manage all of its finances in one place.
Need a loan? Kindly check out this platform that allows you to compare loans from several lenders in minutes. This would help you make the best decision for you.