The stress that comes with opening a business account with conventional banks can be draining. For this reason, many entrepreneurs get discouraged to open a business account with Nigerian banks. Basically, Prospa is an organization that helps business owners open a business account with ease. Here is a summary of what you need to know about the organization.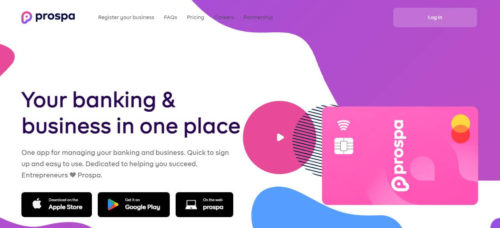 An Overview of Prospa
Prospa is a technology organization creating the operating system for African business owners. Basically, the platform focuses on providing a current bank account for your business. This bank account comes with benefits that are suitable for the growth of your business.
The company is privately-held and was founded in 2019 to provide financial services to Nigerians. Essentially, the organization has a sole mission to help Africans in increasing financial prosperity.
What services does Prospa offer?
Basically, the services Prospa offers aims to help you manage your business and banking. These services include:
1. Providing you with a bank account number registered in your business name
Once you register your business, you receive a bank account number registered in your business name. This saves you the stress of going to a conventional bank to open a business account.
2. Sending and receiving funds
Basically, the business bank account you open functions like a conventional bank account. You can transfer money from your account to other Nigerian bank accounts and receive money from other bank accounts.
3. Business Management Tools
The platform has expenses tracking tool that automatically groups your transactions. Also, you gain access to open and maintain all your business accounts from one dashboard. With this feature, you can switch through your bank accounts with ease.
4. Bills payment
You can pay bills conveniently with funds from your business account. Basically, with this feature, you can pay your utility bills from the comfort of your home.
Lastly, the platform is safe and secure. These features help you to grow and manage your business easily.
---
Get a loan up to N100,000 at the best affordable rates in Nigeria
Did you know that you can now you can compare interest rates from different lenders with our loan simulator and get the best deal? Making an informed loan decision requires comparing different loan offers before making a commitment. Through our simulator, you can see at a glance, loan offers coming from different lenders in less than 5 minutes, so you can make the right decision regarding your financing. Try it today
---
How can I open a business account and register my business with Prospa?

To open an account and register your business on Prospa, follow the instructions below:
1. First, visit the Google play store if you use an android device or the App Store if you use IOS.
2. Next, search for the 'Prospa- Business Account' app and download it.
Lastly, open the app and input the details of your business on the registration form. Once you complete the registration, you get a Prospa business account.
Also, read more on Startup Business Loans with no Collateral in Nigeria.
What are the requirements to open a business account with Prospa?
To open your business account, you need the following documents:
1. Your BVN
2. CAC registration forms
3. Certificate of Incorporation
4. A government-issued identity card
5. A recent utility bill
6. TIN
7. 2 References
Lastly, you need a Board resolution. You can generate this document from your dashboard.
Is there an inflow limit for my Prospa account?
No, there is no inflow limit or restriction for your account. Therefore, can receive as many funds as possible into your business account.
Where can I download the Prospa app?
If you use an Android device, you can download the app on your Google Play Store. However, if you use an IOS device, just check the App Store.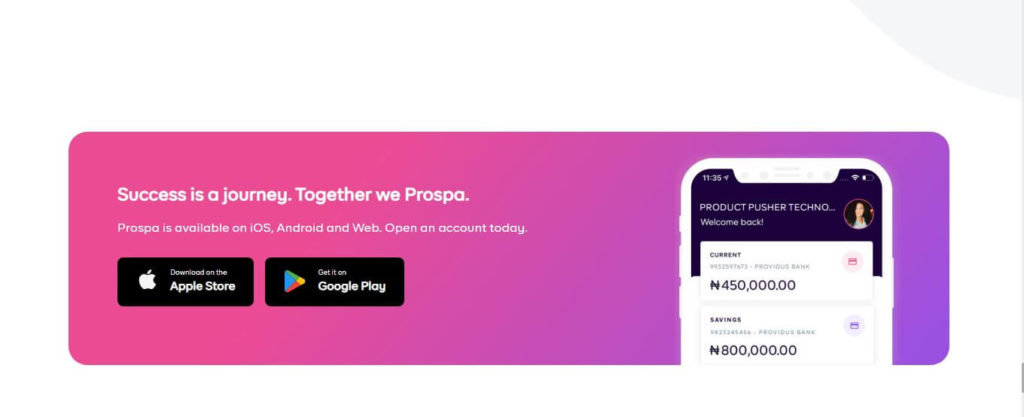 How can I contact Prospa?
You can contact Prospa via the following ways:
Address: 4b Fatai Idowu Arobieke, Lekki Phase 1, Lagos, Nigeria.
Phone Number: (234) 188 878 81
Email Address: help@getprospa.com
Website: www.getprospa.com
Conclusion
Prospa is a platform that helps business owners open and manages their businesses easily. They provide you with digital tools that facilitate business growth and all-around development. Essentially, the platform is a necessity for entrepreneurs.
Need a loan? Kindly check out this platform that allows you to compare loans from several lenders in minutes. This would help you make the best decision for you.