C24 limited is one of the loan organizations that offer loans in Nigeria without collateral. As the company tagline "Money to keep you going" suggests, C24 understands that regardless of whatever financial constraints you may be experiencing, Life goes on, and you need to pay bills.
They provide solutions to your financial problems with a fast and flexible loan application that takes five minutes to complete.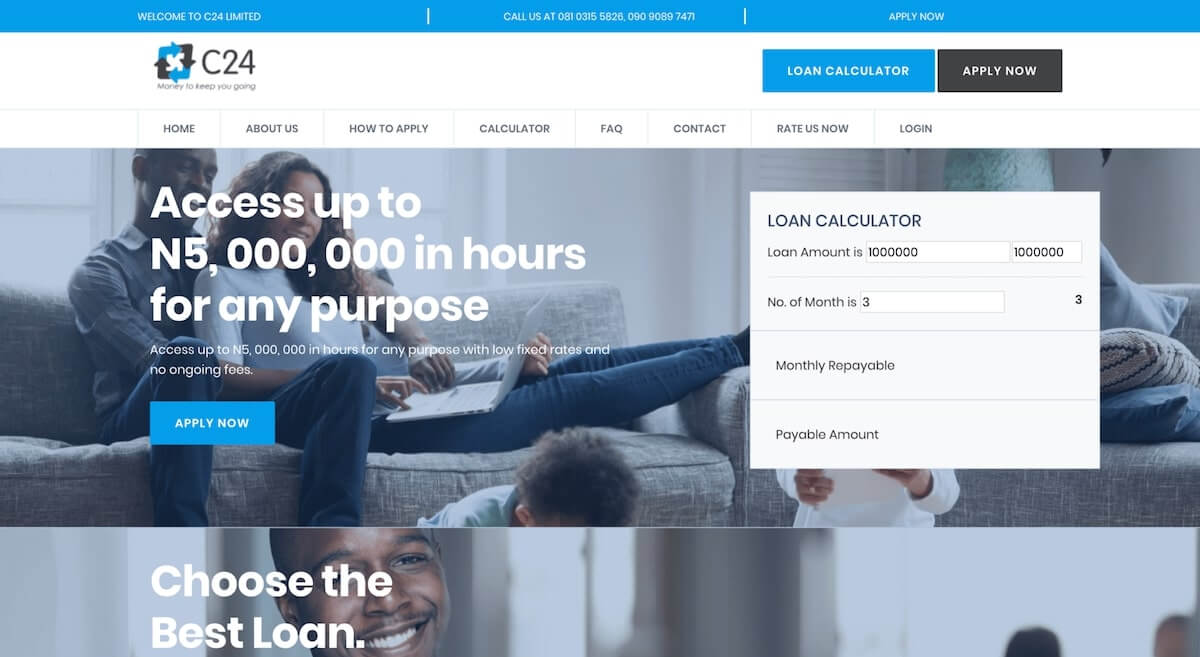 Before choosing a loan package, it is wise to use a loan calculator. It's effortless to use, you enter the loan amount, and as you move the slider around, it will help you automatically calculate the monthly and total repayments for that particular plan.
C24 Loan Types You Can Apply for
1) Personal Loans
As an individual, you may apply for a C24 personal loan of up to two million Naira. This loan can help sort out bill payments, house rent, medical bills, etc. To apply for a personal loan, you are required to have:
A passport photograph
A valid national ID (Drivers License, International Passport, National Voter's Card)
An employment letter to confirm that you are an employee or have a sustainable means of income
6 months' bank account statement
Company Identification
Direct Debit Mandate
---
Get a loan up to N100,000 at the best affordable rates in Nigeria
Now you can compare interest rates from different lenders with our loan simulator and get the best deal. Making an informed loan decision requires comparing different loan offers before making a commitment. Through our simulator, you can see at a glance, loan offers coming from different lenders in less than 5 minutes, so you can make the right decision regarding your financing. Try it today
---
2) Business Loans
C24 offers three kinds of business loans. These include:
Overdraft: This loan assists clients' businesses in the event of emergencies. This facility enables you to withdraw more money than you currently have in your account, granting you access to emergency funds.
LPO Financing: This package grants reputable vendors and contractors access to advance capital required to carry out work and purchase orders. It ensures continuity for the business operations and ultimately fosters growth and expansion.
Considering the several loan options available within Nigeria today, you can make the best decision that would exactly suit your needs through this loan comparison and recommendation platform. It is very easy and straightforward to use and only takes a few minutes.
C24 Loan Requirements
A recent passport photograph
A formal letter requesting the loan, written on your company's letterhead
A signed direct debit mandate
A copy of your most recent utility bill.
A valid means of Identification
You must be actively employed or must have worked for at least six months before the loan application
You must be up to the age of 22
You must have a functional bank account
You must have sufficient transactional history to show that they can payback
What is C24 Loan Interest Rate?
C24 loan offers an interest rate of 4% per month and a one-time 4% management fee. Not to worry, the management fee is already part of your repayment plan.
You are given three to nine months to repay your loan, and you can do this via Direct debit, Cheques, and POS terminals.
It is significant to note that once you default on your payment date, C24 charges you 1% for each day of default.
Generally, C24 loan is a bit more expensive than other loan options but comes in handy if you need an urgent solution and can pay back within a short time.
C24 Loan App
At the moment, you cannot download C24 Loan app either on the Google play store or the Apple app store as it doesn't exist. Hopefully, this would change in the near future.
Is C24 Loan Real?
Yes. C24 Limited is a real company providing loans at flexible rates. You can reach out to them through the email address: contact@c24.com.ng.
What are C24 loans Pros?
The maximum loan you can get is high
The approval process is fast
What are C24 Loan Cons?
Geographically restricted to Lagos
Lots of paperwork
Conclusion
C24 remains one of the best loan platforms in Nigeria, providing loans at flexible rates with swift approval and disbursement time. The application process is also relatively easy, however, get ready for several paperwork.