Last updated on August 9th, 2023 at 04:27 am
Obtaining loans to expand or upscale your services is one of the most common activities as a business owner. If you're looking for the right offers and how to get a business loan in Nigeria, you're surely in the right place.
There are several platforms to access loans for your business. However, keep in mind that the success of a business lies beyond just obtaining loans. You need to have a laid down strategy that cuts across administration, efficient management, cash flow, customer service, and proper marketing strategies.
Understanding your business landscape is another important aspect. In order to run a successful business, It's necessary to know your customers' needs and how to satisfy them. Also, keep in mind that it's important that you have a strong presence online and/or offline as the case may be, and a strategic marketing funnel for your business to follow up with leads. Nevertheless, this does not take the place of funding in the process of growing your business.
Funding remains one of the major reasons why businesses die in Nigeria, killing several dreams that would have brought competitive innovations.
In addition to that, most loan organizations would rather grant loans to already established businesses than take risks with SMEs. This makes it very difficult for a lot of small businesses to access loans. It is also the reason why we have compiled this list of the top platforms where you can get small and medium-scale business loans in Nigeria at very fair rates.
The Best Platforms To Get Business Loans in Nigeria
1. Loanspot.africa
Loanspot.africa is Africa's premier lending platform that serves as a marketplace where you can compare loan offers from different lenders.
When you visit the website, you'll be expected to register for an account first with your accurate details (don't worry, this won't take too much of your time).
Once you're done registering, choose the amount you'd like to borrow and your purpose for borrowing. Within a few seconds, you'll be matched automatically with lenders that suit your need.
All you'll need to do is to access the individual lenders to compare their offers, interest rates, payback conditions, and so on. When you're done choosing one that suits you, an email will be sent to inform you that your request is being processed. Once it's processed, the money will be sent to your bank account.
We added Loanspot.africa to the top of this list because of its uniqueness. This is the most efficient loan marketplace in Nigeria today that gives you an array of various options to choose from. On the platform you'll get to see different ranges of interest rates, payback duration, and other borrowing options.
The idea behind the establishment of the platform was to ensure that individuals, small, and medium-scale business owners are not exploited by loan companies.
What makes Loanspot Africa ideal for business owners?
The major selling point of Loanspot Africa to business owners is the fact that they can access several loans on one platform. So whatever business you run, say an interior design company in Lagos Nigeria, you can be sure that you'll never make the wrong decision in choosing a lender with details that are tailored to your convenience and needs as a business.
What kind of business does Loanspot Africa offer loans to?
Loanspot Africa offers loans to all types of businesses – this includes small, medium, and large sizes as the case may be. Also, there is no limit on the type of business.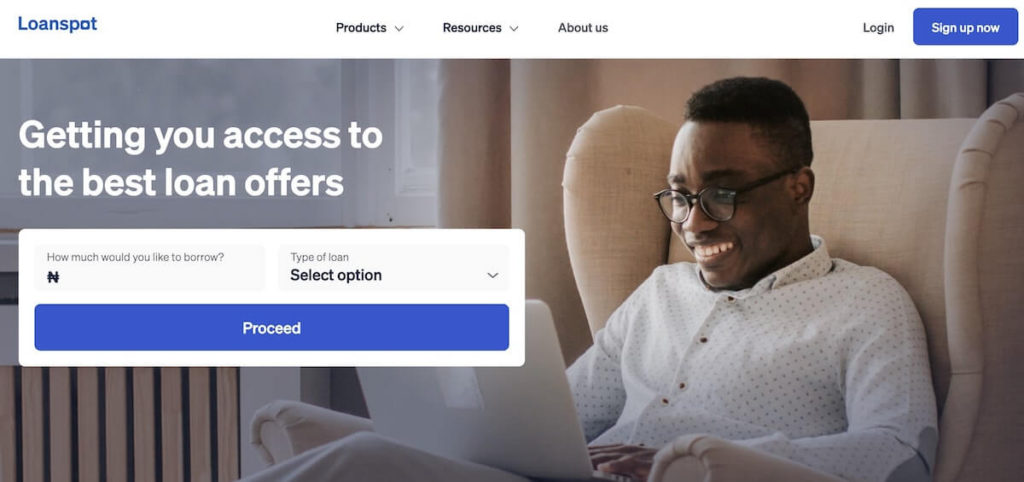 2. Advans Nigeria
Advans Nigeria is a popular loan platform for businesses and individuals. However, although it offers personal loans, it is more popular for its business loan services. Obtaining a loan on Advans Nigeria is as easy as downloading their mobile application, registering, and applying for one as a business. Also, the company allows you as a business to carry other transactions like saving.
Advans Nigeria's selling point is its ease of use for businesses. For better flexibility, you can transact with POS agents of Paga and OPay, including saving, loan repayments, and cash deposits/ withdrawals. Therefore, with Advans Nigeria, the loan is available for your business at the tap of a button.
What makes Advans Nigeria ideal for business owners?
The fact that you can obtain loans through their application platform as a business is unique and makes it far easier for business owners.
What kind of business does Advans Nigeria offer loan to?
This area remains their weak point. At the moment, Advans Nigeria loans are tailored to small businesses only. However, there is no limit on the type of business.
3. Firstbank Nigeria
Firstbank Nigeria SME product financing offers loans across three major categories, personal, business, and private. However, their business loans support a wide array of SMEs and large businesses across Nigeria.
As a multinational bank, Firstbank offers one of the largest loans to businesses in need. This cuts across oil and gas (up & downstream), manufacturing, telecommunication, power and infrastructure, and more. However, although they can fork out large sums as loans, several other requirements need to be in place to access that sum.
What makes Firstbank Nigeria ideal for business owners?
Firstbank Nigeria is very ideal for large business owners that are looking to obtain huge loans for asset finance. Basically, you can access millions as long as you meet the conditions set by the bank.
What kind of business does Firstbank Nigeria offer loans to?
First bank offers loans to different kinds of businesses as there is really no limit on the services you should offer to qualify. Also, their loans are available to small, medium, and large businesses as the case may be.
4. Union Bank
Another bank on our list that offers great loans to businesses is Union Bank. Just like Firstbank, they offer a series of loans to individuals and businesses. Their business loan is called the Non-Payroll loan, and it focuses majorly on helping businesses upscale their services. Therefore, with Union Bank, you can obtain self-employed loans, cash-backed loans, and self-employed revolving overdrafts.
Union Bank's major selling point is how their business loans cater to three categories. With the self-employed loan, you can obtain up to N5 million as a sole business owner and operator. Also, self-employed revolving overdraft allows you access to up to N10 million while cash-backed loans allow up to 80% of your investment amount. Basically, this loan service design means there's something for business.
What makes Union Bank ideal for business owners?
What makes Union Bank loans ideal for business owners is their diversified nature. As a business owner, whether or large, no one is left out.
What kind of business does Union Bank offer loans to?
Union bank offers loans to all kinds of businesses across different industries. Also, they offer loans to small, medium, and large businesses.
5. Baobab Group
Baobab Group offers huge loan amounts to different sizes of businesses depending on their needs. However, on the other end, they also offer loans to individuals in need of personal loan services. Their service line includes microloan, mini microloan, micro+ loan, SME loan, cross and group guarantee loans, asset finance.
Asides from the fact that they offer a wide array of loans to meet your varying needs as a business owner, applying for a loan with Baobab Group is so easy. It takes only 4 steps as all you need to do is fill out the loan interest form on their site and an agent would carry on with it from there.
What makes Baobab Group ideal for business owners?
The specifically tailored business loan services make Baobab very ideal for business owners. You can choose your most convenient loan as the case may be at a low-interest rate of up to 5% depending on the amount.
What kind of business does Baobab Group offer loans to?
Baobab group offers loans to all kinds of businesses and not specific sectors. They also offer small, medium, and large businesses.
6. Accessbank
Access bank have specially designed loans for corporate bodies or businesses looking to upscale in a large way. However, they also possess loans for individuals, precisely those in the creative industry as an extension of CBN loans. The bank remains one of the most popular in Nigeria and offers impressive loan services to match its reputation.
Access Bank's unique selling point lies in the fact that they offer one of the widest arrays of corporate business loans including term and time loans, fleet financing, mortgage loans, asset financing, and more. This makes their service virtually friendly to all businesses. However, some you need to meet the minimum requirement, which is a little stiff for small and upcoming businesses.
What makes Accessbank ideal for business owners?
What makes it ideal is the series of products under their business loans. Basically, the wide variety means that there's something for everyone.
What kind of business does Accessbank offer loans to?
Access bank does not have a specific business or industry to which it tailored its loan to. Instead, the bank made their loans open to all as long as you meet the requirements.
7. Lendigo
Lendigo is a loan platform that offers loans to businesses in Nigeria without collateral. Their loans cover a wide array of businesses as there are no special industries and to date, they claim to have offered N6bn in loans to over 2,000 businesses.
Just as we have earlier explained, Lendigo offers loans to businesses all across Nigeria. Basically, their loans cater to SMEs and you do not require collateral. The loan price starts from N300,000 and runs into millions depending on the business. Amazingly, all you need to access this loan is the Lendigo app.
What makes Lendigo ideal for business owners?
Ledigo's major benefit for business owners is that they do not require you to provide any collateral. As a business owner, all you need to do is download their app and register, bringing us to their second benefit for business owners. This makes the loan very easily accessible and in a matter of hours after the request, they would disburse the loan to you.
What kind of business does Lendigo offer loans to?
Lendigo offers loans to all businesses. Therefore, they are not industry or size respective although their services are more tailored to SMEs.
8. Guarantee trust bank PLC
As a multinational bank, GTB offers a wide array of loans to business owners. This includes overdraft, asset financing, imports and exports, and so much more. Their vast business loan services make them a very attractive option for business owners though you'd have to qualify first.
Although possessing personal loans services, GTB also offers several options to businesses all over Nigeria. This remains their unique selling point, especially for businesses. However, the downside remains the requirements you have to satisfy to be able to access such a loan.
What makes Guarantee trust bank PLC ideal for business owners?
The maximum loan amount makes their service very attractive to business owners, especially for businesses looking to upscale in a large way. However, like most other banks, there are a series of requirements to meet first.
What kind of business does Guarantee trust bank PLC offer loans to?
GTB loans are accessible to all kinds of businesses across different industries across Nigeria. However, as an SME, it would be difficult to access certain amounts as the bank requires some sort of guarantee for that
9. Access Bank Nigeria PLC
You can opt for several loans with Access bank as a business owner in Nigeria. However, although they have loans for big businesses, the most commonly accessible access bank loan is their SME edition. In the end, it all depends on what you are looking at as a business.
In recent times, access bank has focused on providing loans to small businesses across the nation. You can easily access this loan through the website or by visiting any of their branches across Nigeria. Also, note that you must have a down payment of at least 50% of your existing facility to qualify. In addition, you must have not missed any loan repayment within the last 6 months.
What makes Access Bank Nigeria PLC ideal for business owners?
The fact that access bank offers services that allow SMEs to grow instead of strictly large business loans makes them ideal for a majority of business owners in Nigeria. However, this is not to say that they do not offer loans for large businesses, as they do.
What kind of business does Access Bank Nigeria PLC offer loans to?
Access bank offers loans to businesses across all industries as long as you meet the requirement.
The bank also has loan offers for small, large, and medium-sized businesses.
10. Stanbic IBTC loan
Stanbic IBTC is another bank whose loan services tend towards SMEs, without neglecting loans to large businesses. As a business owner, you can easily apply for an SME loan online by opening an account and the bank would support you to achieve your business goals by providing your working capital.
Stanbic IBTC loans lie on four pillars – support, ease, speed, and flexible terms. Of each pillar, flexible terms are certainly the most loved by business owners. It allows you to design your repayment plan based on your businesses' cash flow.
What makes Stanbic IBTC loan ideal for business owners?
The combination that makes Stanbic services ideal for business owners are that its loans are easy to access, has a quick disbursement time of 24 hours and possesses flexible repayment time that allows you to pay at your convenience.
What kind of business does Stanbic IBTC loan offer loans to?
Stanbic IBTC does not boast of any preference when it comes to selecting businesses as it services cut across all industries. The bank also offers loans to small, medium, and large corporations.
Bottom line
This article contains the top places to get a business loan in Nigeria. Basically, all you need to do is consider the needs of your business and match the services that it may need. Good luck in your search for the right loan for your business!