Nowadays, microfinance banks have made it possible for business owners to obtain quick loans. If you live in Kaduna and need a loan, you can go for Kada loans. Here's what to do to obtain a loan from Kada Microfinance Bank.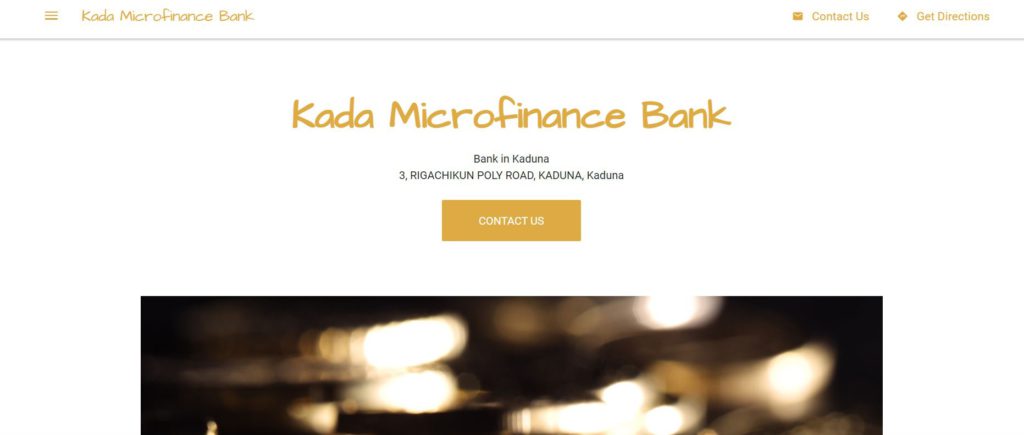 An Overview of Kada Microfinance Bank
Kada Microfinance Bank is a financial institution that offers loans to business owners and salary earners in Kaduna, Nigeria. This institution was licensed by the CBN in 2008 and has grown to become a reputable bank that offers loans to its customers.
What products does Kada Microfinance Bank offer?
Basically, Kada bank offers loan services to business owners and salary earners. Here's what you would know:
1. Microloans
Microloans are solely for students, business owners, and petty traders. Basically, this type of loan caters to Small and medium-sized enterprises and gives them a chance to obtain quick loans. To get a Microloan from Kada bank, you need to fill out the loan application form and provide collateral for the loan. The interest rate on this loan is 5% with a maximum loan tenure of 6 months. 
2. Salary Advance
As the name implies, Salary advance is primarily for salary earners in reputable organisations. If you fall into this category, you can obtain a maximum loan amount of 50% of your normal monthly salary. The maximum tenor on this loan is 30 days.
3. Group Loan
The group loan is available for people who want to borrow as a group. This loan attracts a 4% borrowing fee alongside other loan fees. 
---
Get a loan up to N100,000 at the best affordable rates in Nigeria
Did you know that you can now you can compare interest rates from different lenders with our loan simulator and get the best deal? Making an informed loan decision requires comparing different loan offers before making a commitment. Through our simulator, you can see at a glance, loan offers coming from different lenders in less than 5 minutes, so you can make the right decision regarding your financing. Try it today
---
How can I apply for a Kada loan?
If you want to apply for a loan from Kada bank, follow these instructions:
1. Open an account with the bank
This is the first step to take if you want to borrow a loan. Opening an account with Kada bank will show your commitment to the bank.
2. Fund your account for sometime
The next step to take after opening a Kada account is to actively service your account for a while. Basically, servicing your account means that you have to fund it and withdraw money from the account constantly. This will make you qualified to access loans.
3. Apply for the loan
To apply for a Kada loan, you need to have a valid reason why you need the loan. As long as your loan reasons are genuine, there is a high chance that you will get the loan.
4. Provide the necessary documents
You can hasten your access to the loan by providing the necessary documents pertaining to why you need the loan. Also, you need to present collateral and its documents.
What are the requirements to obtain a Kada loan?
To obtain a loan from Kada bank, you need to present the following documents:
1. Letter of employment
2. Other forms of valid identification (National Identity card, your international passport, etc)
3. Staff identity card
4. Pay slip
5. 6 months statement of account
6. Two credible guarantors
7. Utility bill
What is Kada loan interest rate? 
Kada bank charges you an interest rate of 4% – 11% depending on the amount of loan you borrow. Also, the type of loan product you took will determine your interest rate.
How can I contact Kada Microfinance Bank?
Here's how to contact Kada Microfinance Bank
Address: 3, RIGACHIKUN POLY ROAD, KADUNA, Tudun Wada, Kaduna
Phone Number: 08098909343, 08036884586
Email Address: kadamfbank@yahoo.com
Final thoughts
Kada Microfinance Bank is a reliable financial institution where you can access loans if you reside in Kaduna. All you need to do to get a Kada loan is to open an account with the bank and become one of their customers. This will make your loan processing easier. However, the loan you can access is not collateral free. Hence, you will need a collateral and guarantor to obtain a loan from Kada bank. 
Do you need a loan? Be sure to visit this loan platform that allows you to compare loans from different lenders in minutes. It offers the best and ensures that you get nothing less.