With the kind of economy, we are in today, obtaining loans have become as important as ever to both business owners and individuals. However, regardless of the reasons you need a loan, finding a good lender is mostly up to 70% of the work. More so, this why institutions like the Globus bank are in business, to make things easier than they currently are. Globus bank loans are some of the easiest to obtain, meeting the needs of many over the years.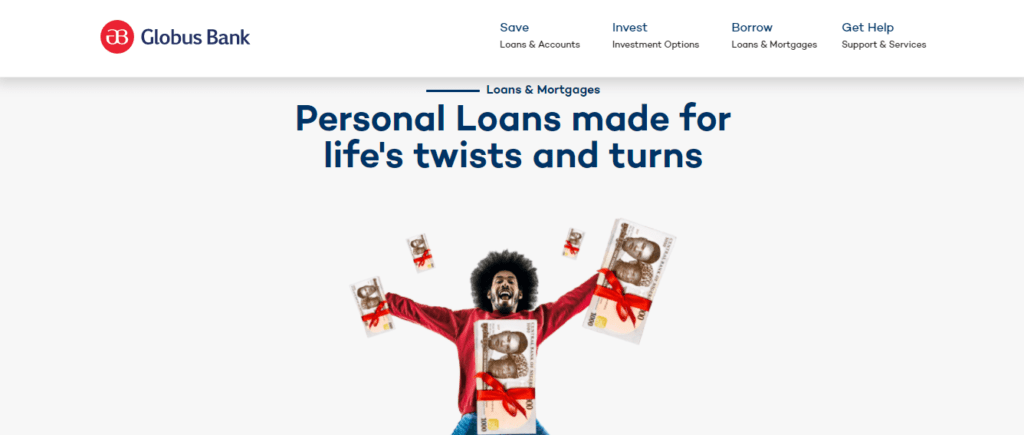 About the company
Being relatively new in the market, Globus bank was incorporated as a limited liability company back on March 6, 2019. Also, they are duly licensed by the Central Bank of Nigeria and have a primary purpose of providing commercial banking services to the citizens of Nigeria. However, just like many today, Globus bank is an institution built on digital foundations and aims to be Nigeria's foremost digital bank. Basically, this is to provide the best timely solutions to meet the needs of their customers.
What are the services under Globus bank loans?
Although Globus bank provides an avenue for conventional personal banking, their loan products remain the company's major selling point. Therefore, the loan services they provide include:
1. Personal loans
Globus bank personal loans are available to employees of organizations. Basically, the bank cuts a deal with businesses, allowing their employers to obtain up to 75% of their net annual salary as a loan. However, note that this is only available to applicants with terminal benefits.
---
Get a loan up to N100,000 at the best affordable rates in Nigeria
Did you know that you can now you can compare interest rates from different lenders with our loan simulator and get the best deal? Making an informed loan decision requires comparing different loan offers before making a commitment. Through our simulator, you can see at a glance, loan offers coming from different lenders in less than 5 minutes, so you can make the right decision regarding your financing. Try it today
---
2. Creative sector loan
The creative sector loan is sponsored by an initiative of the Central Bank of Nigeria (CBN). Basically, it is aimed at building capacity and creating employment for individuals in the fashion, software engineering, and information technology industries. You can also check out this post on the Central Bank of Nigeria loan.
3. Asset finance
Globus banks designed this service for businesses looking to purchase assets. Therefore, it funds their purchase of equipment such as vehicles, machinery, and even realize cash from the value in assets which the businesses already own.
4. Vehicle finance
Vehicle finance funds your desire to purchase a vehicle of your choosing. Also, the repayment structure is flexible and includes interests, instead of a lump sum payment which may be difficult.
5. Mortgage
Lastly, mortgage loans help take off the burden of direct payment of real estate projects from you as the customer. Basically, the bank pays upfront and allows you to pay back the borrowed amount over an agreed period of time.
What are the applicable interest rates to Globus bank loans?
The interest rate applicable to Globus bank loans is not fixed but instead varies depending on the type and nature of the loan. However, one thing is certain, which is the fact that they would state the rate in the contract, informing you before it's finalized. At that point, it is left for you to weigh your options and either accept or reject.
What are the minimum requirements for taking up a loan?
With Globus bank, each loan has its own minimum requirements. However, most of each loan product includes the compulsory qualification that the customer must have a steady source of income. This is how the bank judges your repayment capacity and weighs the risks of lending to you.
What are Globus bank loans repayment terms?
You and the bank agree on the repayment term upon completing your loan application process. Therefore, they differ from one person to another. However, Globus bank offers flexible and convenient repayment to their customers.
How do I apply for Globus bank Loans?
Application for Globus bank loans is very easy. You can do so through their online channels or by visiting the bank itself. The processes are:
Visit their official website at https://www.globusbank.com/
Navigate to the online banking tab and select "corporate banking"
Create a new account
After this, you can then apply for a loan through the "borrow" tab
How do I contact Globus Bank?
You can contact Globus bank through any of the following means:
Address: 6, Adeyemo Alakija Street, Victoria Island, Lagos.
Email: contactcenter@globusbank.com
Phone: 01-2259000, 01-2259001
Twitter: @GlobusBankNG
Instagram: GlobusBankNG
Conclusion
As one of the forerunners of the digital banking system in Nigeria, Globus bank loans are relatively easy to obtain as long as you qualify. Their loan services are available both at personal and business levels, providing just what you need.
Need a loan? Kindly check out this platform that allows you to compare loans from several lenders in minutes. This would help you make the best decision for you.