Last updated on August 21st, 2021 at 10:25 pm
We live in tough times. Loss of jobs and income is the new normal even as are navigating through a global pandemic.
This is by far one of the most challenging years we've experienced globally; however, there is a sense of relief that comes with knowing that there are resources such as Paymyrent who can grant much-needed help.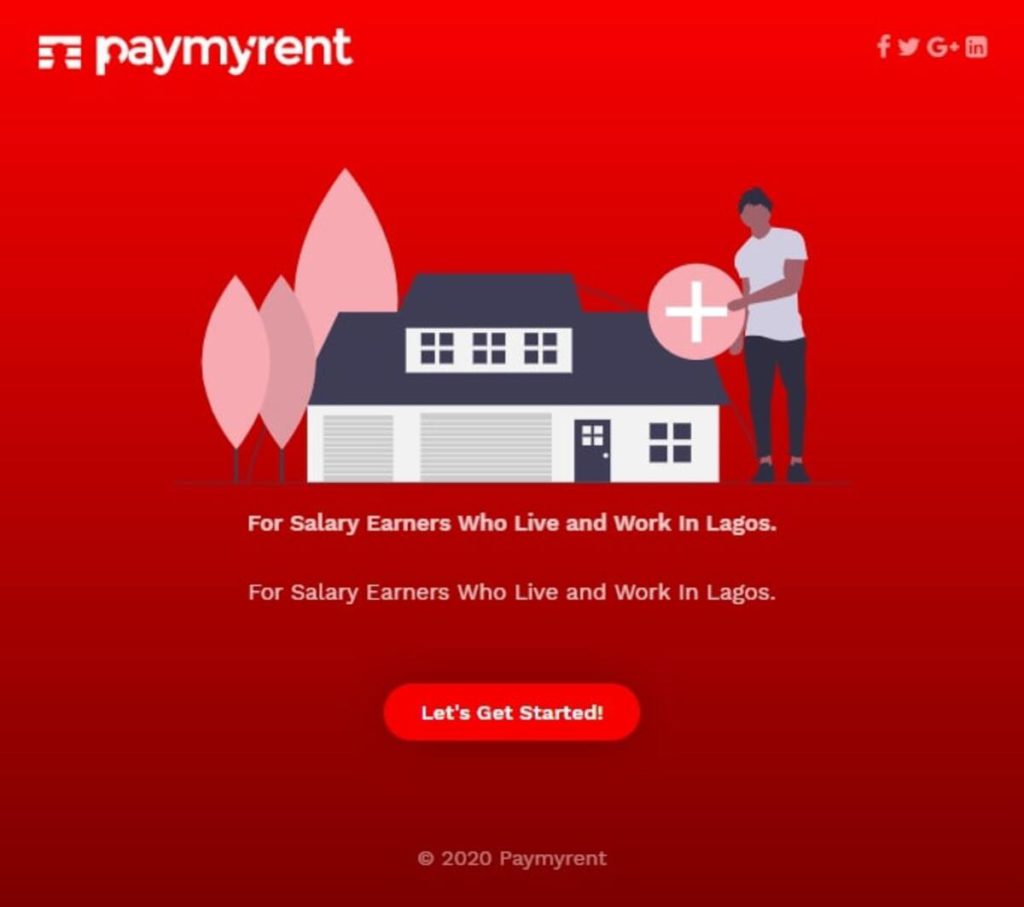 Paymyrent is a resource available for salary earners in Lagos to help augment the annual rent imposed by most Landlords. Keep in mind that paymyrent is a loan resource that will need to be paid back.
It is merely a way to get the much-needed cash you need without fronting everything. It only offers the convenience of splitting payments instead of cashing out a lump sum.
In western economies, they pay rent on per month; however, the distrust in a community demands that landlords request for annual lease, some even ask for two years in advance. Paymyrent can help with easing some of those financial burdens.
There are two methods in which this resource can come to play – You're renting a new apartment, or you are renewing a lease.
How does this work if you are renting a new apartment?
There are only specific properties in Lagos That accept paymyrent's arrangement, so you must go to www.paymyrent.ng to find and select a property.
Inspect the property with an agent
After you've decided on the property, you'd like to proceed with, fill out a loan application, and submit the requested documents on the website.
If approved, you'll pay paymyrent.ng 50% of the rent cost
Paymyrent will pay the landlord 100% of the total rent cost.
Monthly payments will be paid to paymyrent until you pay the total amount in full.
How does this work if you are renewing a lease?
Fill the application form on www.paymyrent.ng
Send the requested documents.
If approved, a line of credit will be given to you with the recommended amount.
Pay a verification fee of N7,500
The loan gets credited to your account.
Monthly payments will be paid to paymyrent until you pay the total amount in full.
Easy, right? We thought so!
So who can qualify?
Salary earners in Lagos. A general rule of thumb is that your yearly rent, when broken down into months, shouldn't be over 30% of your gross income.
So, for example, if you earn N150,000 per month. You shouldn't be spending more than N45,000 on rent (150,000x 30%), which means you shouldn't be paying more than N540,000 (N45,000 x 12) per annum on rent. Keep this in mind when renting so you do not borrow so much that you have difficulty paying back.
Conclusion
Even though paymyrent is a loan resource, the convenience it offers and the ease of the process is unmatched.
It helps you save towards paying a rent conveniently as a loan resource and protects its users from rent worries. However, it should be managed carefully.