Last updated on May 6th, 2023 at 05:26 pm
With the incessant increase in financial fraud in Nigeria, many companies seek a safe way to make cross-border funds transfers. Fortunately, a few fintech infrastructures have come up with an easy way out of this problem. AZA Finance is one of Nigeria's leading fintech companies that allows you to make hassle-free and safe cross-border transfers. Basically, this makes the financial management of your business a smooth one.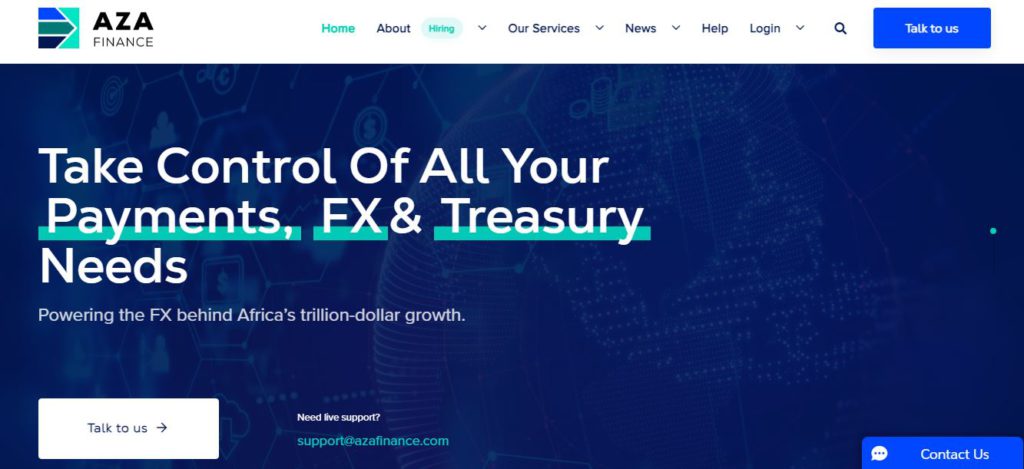 An Overview of AZA Finance
Basically, AZA Finance is a company that provides currency trading solutions to advance global access to frontier markets via an innovative infrastructure. Therefore, the company provides businesses with a safe method to make FX and cross-border fund transfers. They achieve this through an innovative infrastructure. This infrastructure lowers the cost and increases the reliability and speed of transactions.
Furthermore, the organization was founded in Nairobi, Kenya, in 2013 by a team of experts. Over time, they have also grown from being just a currency exchange platform to a global financial services corporation expert.
What Services does AZA Finance offer?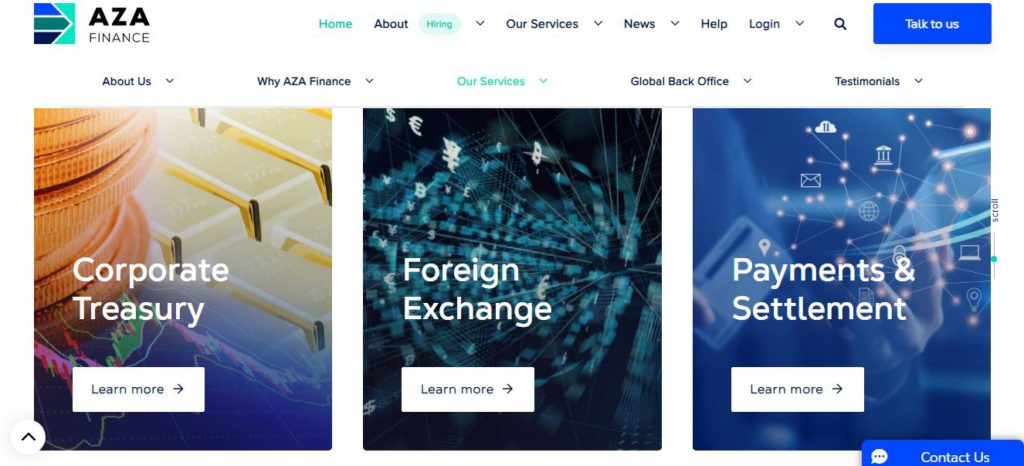 The services this fintech organization offers to businesses include:
1. Treasury
The company provides corporate treasury services for frontier markets. Basically, this service allows businesses to outsource their corporate treasury. This facilitates the seamless management of liquidity and cross-border cash flows.
2. Payments and Settlement
This service helps you to streamline settlement and automates payments across Africa and various G20 currencies. Basically, this makes it simpler for businesses to pay employees, partners as well as vendors in 115 countries.
3. Foreign Exchange
The foreign exchange service encompasses comprehensive FX services for both businesses and global enterprises. Basically, the company helps businesses maximize trade and mitigate risk but does not facilitate foreign remittance. Also, read more on Forex Loans – Everything you should know.
4. Financial Technology
The organization offers various services that are built on its outstanding proprietary infrastructure. Basically, the platform provides you with these services 24/7.
---
Get a loan up to N100,000 at the best affordable rates in Nigeria
Did you know that you can now you can compare interest rates from different lenders with our loan simulator and get the best deal? Making an informed loan decision requires comparing different loan offers before making a commitment. Through our simulator, you can see at a glance, loan offers coming from different lenders in less than 5 minutes, so you can make the right decision regarding your financing. Try it today
---
How can I register on AZA Finance?
Basically, here is how to register on the AZA platform:
1. First, log into their website, www.azafinance.com
2. Next, go ahead to tap the "sign up" toolbar
Thereafter, input your basic information on the online registration form.
How can I make a cross-border transfer on AZA Finance?
Basically, to make cross border transfers, follow the instructions below:
1. Log in to your AZA account. If you do not have an account, sign up on the website.
2. Next, input the currency you hold, and how much money you want to transfer. Also, input the type of currency you want your recipient to receive. Once you do this the platform will automatically show you the exchange rate.
3. Make your payment in your local currency into AZA's local bank account.
4. Lastly, be patient. Your recipient will receive the funds within 24-48 hours.
What is the exchange rate on AZA Finance?
Basically, the exchange rate on AZA varies depending on the amount you want to send. However, the company boasts of having competitive rates with low fees.
What documents do I need to Register on AZA Finance?
Basically, to register on AZA, you need important details of your company. This includes your company's name, email address, address, legal documents, and password.
Does AZA Finance have a mobile app?
No, AZA does not have a mobile app. However, you can access their full services via their web platform and API solution.
How can I contact AZA Finance?
You can contact AZA Finance via the following ways:
Phone Number: +234 908 206 5264
Email Address: support@azafinance.com
Website: www.azafinance.com
Bottom line
AZA Finance is primarily a fintech infrastructure that allows companies to make safe cross-border transfers. Also, the platform enables companies to make automated payments of salaries to their employees or partners. In all, AZA is an efficient and trustworthy digital infrastructure.
Need a loan? Kindly check out this platform that allows you to compare loans from several lenders in minutes. This would help you make the best decision for you.