Gtbank has a wide range of offers for getting a loan in Nigeria that suits personal and business needs. One might get confused in the process of choosing the right fit. This confusion is why it is essential to use a loan calculator before applying for any loan package.
The loan calculator is a web application that helps you calculate how much your loan payment will be. The loan payment will depend on the kind of loan and its interest rate. To make use of the loan calculator, you input your loan information (Amount, interest rate, a period of repayment). After that, the calculator will help compute your monthly payments, total payments and total interest payments. A loan calculator is an invaluable tool. It enables you to make a more informed decision on what loan package suits you best.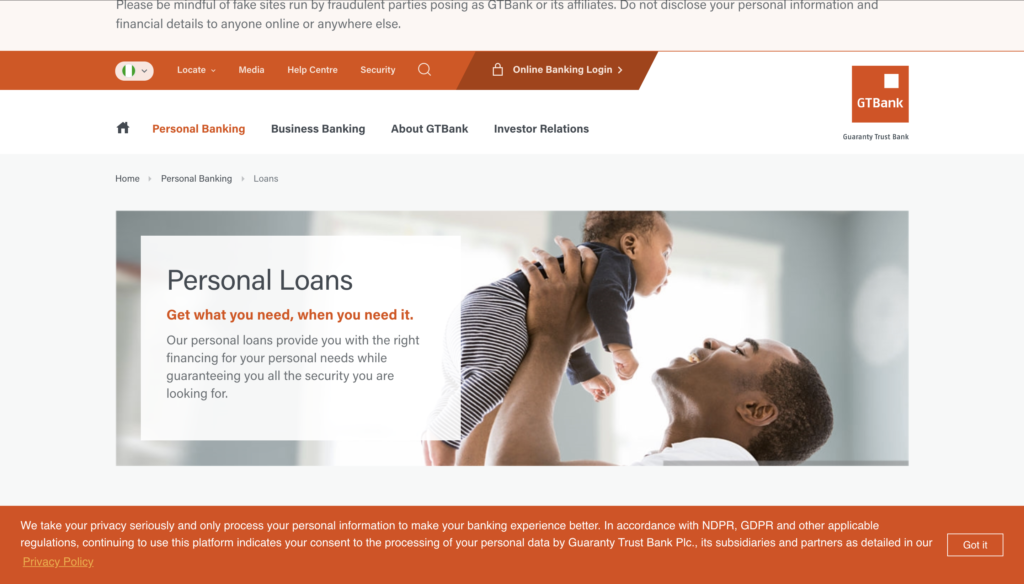 GTBank Loan Packages
GT Salary Advance: This package enables you to get up to 50% of your net salary upfront. It is available to customers who have GTB salary accounts only.

GT School Fees Advance: This loan facility assists in the payment of school fees for any institution in Nigeria.

Max Advance: The Max Advance facilitates personal loans for members of staff and selected corporate organisations.

Max Plus: A more robust version of the Max Advance, the max-plus package facilitates a larger loan facility. In addition, it offers more flexibility with its repayment plan. As a result, this package is available for platinum customers only.

GTB Quick Credit: This loan grants beneficiaries access to the cash they need urgently, and allows them to pay back over a period between 6 – 12 months. Quick Credit gives you funds up to N5million at a monthly interest rate of 1.75%

Computer Advance: Tailored particularly for youth corpers who have their allowance accounts with GTB. It enables them to purchase mobile devices and payback during their service year.

GTMorgage: This offers loan facilities to enable customers on a home in selected cities in Nigeria.

Premium Advance: With this package, an overdraft is placed on your Debit Naira Mastercard, enabling you to make payments even when there aren't enough funds in your account.

Travel Advance: This package meets the travelling needs of customers.

Vehicle Insurance Premium Financing: This is a time loan that enables beneficiaries to pay their vehicle insurance upfront and repay within a year.
How To Apply For A GTBank Loan
To be eligible for the Quick credit loan, here are the following requirements to meet
· You must be 18 years or above.
·A minimum of 10,000 must be what you earn on a monthly basis.
· Do not have any outstanding or current loans from any other banks
To apply, dial the USSD code *737*51*51#. You can also use the bank's mobile and online platforms. You can check out other USSD code for loans in Nigeria.
Loan Repayment
Quick Credit offers an interest rate of 1.33% per month, and loan repayment can be spread for 6-12 months, depending on the customer's financial record.
The Quick credit loan package is excellent for both salary earners and self-employed individuals. Its modest rates along with a flexible repayment plan ensure that you are more than able to pay back on time.