Before the likes of GT Bank's Quick credit and other platforms where you can get an instant online loan in Nigeria today came into play, getting a loan was never a stroll in the park.
The thought of approaching commercial banks for a loan used to be a tedious affair in the past. From submitting numerous documents to convincing someone to stand as a guarantor and risking your request rejected. Thank goodness for technology that has taken all these complicated processes and made them more enjoyable by simplifying them.
What is Quick credit?
Quick credit is a payday loan product by GTBank accessible to salary and non-salary account holders. It's a GTB loan that offers you a minimum loan amount of N10,000, a maximum of N500,000 for non-salary holders, and 5million for salary holders.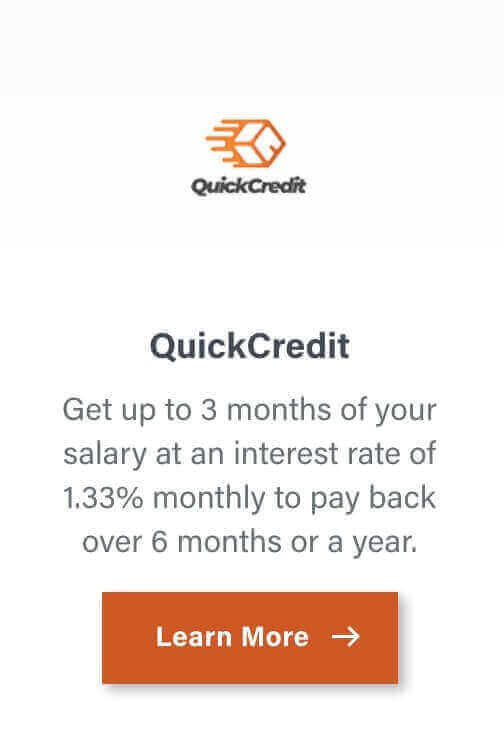 How To Get A Quick credit From GTBank?
Use Internet banking platform
Use the GTBank Mobile app
USSD code *737*51*51# (Check out other USSD code for loans in Nigeria)
How Do I Know I am Eligible for Quick credit?
To qualify for this loan, you must be an existing GTBank customer with a monthly net salary of at least N20,000. Also, you must have a satisfactory credit score and no unpaid obligations.
Why Should I Pick Quick credit Over Other Loan Products?
Quick credit has one of the lowest interest rates compared to other loan products. With an interest rate of 1.33% monthly and a maximum tenor of 12 months, it is easy to see why it is a favorite of many loan facility users. However, In the event of you defaulting on payment, an interest rate of 1% is added to your debt.
Quick credit For Non Salary Earners
Just like the loan product for salary and non-salary earners, GTBank has tailored one for small businesses. Quick credit For Small Business makes soft loans available for SMEs to run their day to day operations smoothly. This loan product finances SMEs in the Education and Healthcare industry.
Features of Quick credit For Small Businesses and Non-Salary Earners
It is quite similar to the regular Quick credit product and yet, has its unique feature.
Prequalified customers are eligible for the loan
Customers get a Loan tenure of 6 months. However, schools get 12 months.
It has different rates for the two industries it places focus on —1.33 % per month for the Education segment and 1.75% for healthcare.
Customers have access to 50% of their average annual turnover
Customers can also open a corporate account. They should have used this account for up to 12 months before applying for a Quick credit facility
The minimum loan amount is N250,000.00, and the maximum amount is N5,000,000.00
Like the regular Quick credit product, customers also get their funds instantly. Another great benefit is its flexible payment plans. One can make interest payments monthly and quarterly principal repayments. Note, the quarterly repayment option is strictly for business in the Education industry. Note, if you have an existing loan facility with another commercial bank, you cannot apply. 
Conclusion
GTBank's Quick credit is easy to navigate and somewhat has the fairest interest rates in comparison with other loan products like Migo loan. Immediately you become eligible for Quick credit, you will get a notification, and you can start taking low offers. The offers increase as your credit score builds up over time. You can give it a try. Good Luck!