The digital age has made crowdfunding easy and seamless. Basically, several digital platforms now give Nigerians an opportunity to raise funds from the public to finance their projects without going through stress. Unlike in the past when it was more complicated, crowdfunding can now be easily done through your mobile phone. Donate-ng is an online crowdfunding platform where you can seek donations from the public to make your dream project come true. Here is a summary of what you should know about this company.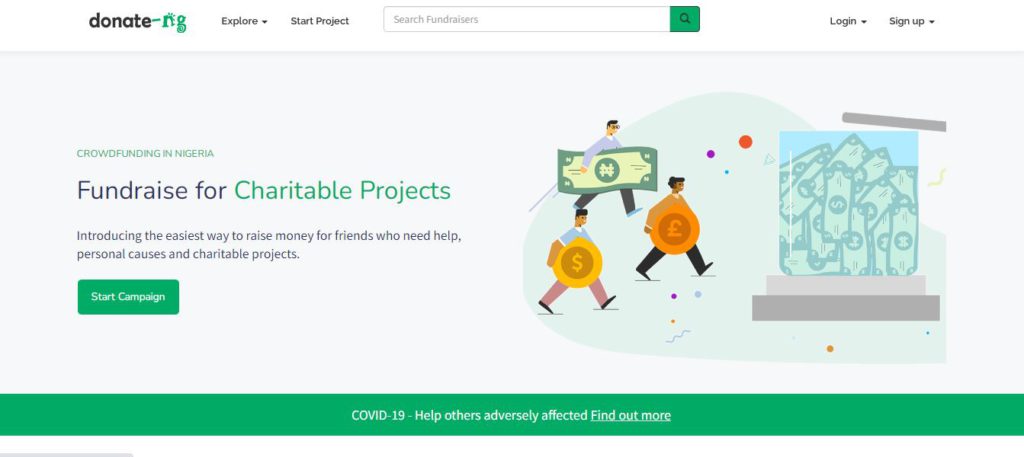 An Overview of Donate-ng?
Donate-ng is a digital crowdfunding platform where people with projects can make their dreams come through by getting help from people all around the world. From Charities, Religious organisations, School alumni, and Entertainers, everyone can register and get help on this platform.
The crowdfunding organisation was founded in 2015 with a mission to be the most renowned online crowdfunding platform in Nigeria. They seek financial help from Nigerians both in Nigeria and abroad to improve lives via social fundraising for charitable causes and projects. Its parent organization is Two can Solutions Limited.
What service does Donate-ng offer?
Basically, this company provides crowdfunding and fundraising services to the public.
Crowdfunding
Crowdfunding services raise money from the public to help charities, religious organizations, and others execute their projects. Individuals will be able to access these funds at the end of the target date.
Read also: Startup funding in Nigeria – What you should know
---

Get a loan up to N100,000 at the best affordable rates in Nigeria
Did you know that you can now you can compare interest rates from different lenders with our loan simulator and get the best deal? Making an informed loan decision requires comparing different loan offers before making a commitment. Through our simulator, you can see at a glance, loan offers coming from different lenders in less than 5 minutes, so you can make the right decision regarding your financing. Try it today
---
How can I register on Donate-ng?
Follow these steps to register on the website:
1. Visit their official website
2. Next, touch the 'Sign Up' tab
3. Lastly, enter your basic data and tap on 'Sign Up'
How can I raise funds on Donate-ng?
Follow these steps to raise funds on the website:
1. Register as a user
2. Next, create a fundraising portal for the project you want to commence
3. At the end of the donation period, you will receive the money donated to your project.
4. Use the money for the project.
What documents do I need to register on this platform?
Here are the basic documents the platform requires from you:
1. Your first name and last name
2. Email address
3. Password
How long does it take before I can access my funds on Donate-ng?
Charity organisations can withdraw donations when the fund's amount is more than N50,000. However, you can also select the automatic payment and the platform will send the designated account at regular intervals. On the other hand, individual fundraisers will be able to access the money at the due date or whenever the fund is completed before the due date.
Suggested read: Startup business loans in Nigeria – Where and how to get it
Does Donate-ng have a mobile application?
This crowdfunding platform does not currently have a mobile application. However, this is not a barrier because you can donate through its web platform. Also, you can apply for your project to be funded through their web platform.
How can I contact Donate-ng?
You can contact Donate-ng through the following ways:
Address: Hub One, 10, Hughes Avenue, Off Herbert Macaulay Way, Yaba 101212, Lagos, Nigeria
Tel: +2349062547346
Email: support@donate-ng.com
Website: www.donate-ng.com
Bottom line
Donate-ng is primarily a platform that provides a legit way of donating to causes that are worthwhile and legitimate. Basically, they make the crowdfunding process easy, convenient and hassle-free. If you have any crowdfunding plans in mind, you can check them out.
You can obtain a comprehensive loan, tailored to your specific needs by using this platform. Basically, it allows you to compare loans from different lenders across Africa, ensuring the best option doesn't slip through.