Getting a loan in Nigeria is inevitable, whether it's from a loved one or an institution; almost everyone probably has a story where they had to obtain a loan.
Access bank plc offers you a range of loan products to finance that need which made your request for it in the first place. Their loans provide you with dependable financial solutions which help you achieve your goals. Some of them include;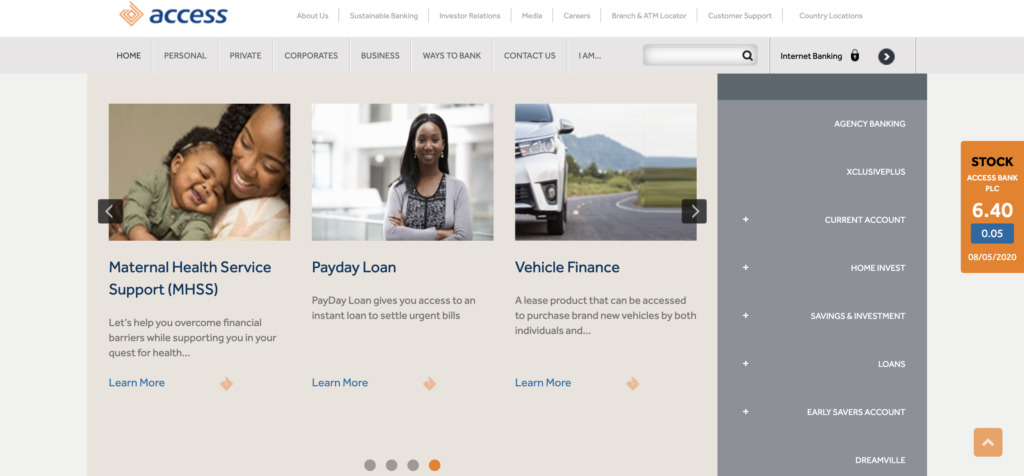 Lending Against Turnover (LATO): This is an instant loan product that targets non-salary account holders who already have a relationship with the Bank for over six months and above. This type of loan requires no documentation or collateral from the recipient and lasts for 30 days. You can conveniently apply for this type of loan through a USSD code. See USSD code for loans in Nigeria.
Personal loan: This type of loan targets employees to empower their needs through a salary administration product. It is flexible to the employees leave and lasts for 36 months.
Salary Advance: This type of loan gives employees access to up to 100% of their net monthly salary. It requires no documentation or collateral and can easily be applied for through their quick bucks app or USSD code. The individual is to repay within3 months.
W Power Loan: This unique Access Bank loan product helps close the financing gap for female-owned businesses. W Power Loan provides them access to loans and credit facilities.
Vehicle Finance: If you have been looking for a way to acquire a new car conveniently, this loan from Access Bank gives you the money you need to make this happen. It is open to salary earners, SMEs owners and Corporate organisations. You get access to a wide variety of vendors, and you're to pay back the loan within 48 months.
How Does The Access Bank Loan Work?
Each Access Bank loan product has its requirements and features which allows the prospect review and determine the most suitable loan product for their needs. It brings us to a technology which will enable you to evaluate these products and decide whether you can go through with it. This technology is the Amortizing Loan Calculator. With this calculator, you can find out how much money you can borrow based on your monthly payment, or you can find out what you'll pay monthly based on how much you want to borrow. Scrutinize all the details before making a decision.
How to Apply for a loan from Access Bank
Modern technology has made it easy to request for a loan without leaving your home. To obtain a loan from Access bank, you can use the Quick box application which is available from your device's store or use a USSD code specific to the type of loan you're requesting for. You can also visit any of their ATMs to apply for a loan.
Access Bank Loan Requirements
While most loan products require the applicant to submit specific documents to enable their evaluation, some documents are vital and apply across almost all the products. They include:
Completed Application Form
Completed Employee Status Inquiry/Employer's Confirmation Form
Evidence of Confirmation (Letter of Confirmation, Last promotion letter etc.)
Copy of Employment ID and valid means of identification
BVN
Credit checks
Letter of Lien/Set-off
Access Bank Loan Repayment
When you receive a loan from Access bank, they will duly inform you on how to repay the loan. For most of the products, you will pay monthly installments after about 30days of receipt. This amount is automatically deducted from your account every month, to save you from the stress of visiting your banks. This is not just peculiar to Acess bank. It is the same method adopted for Zenith Bank loan, and so on.
Conclusion
With a variety of loan products to choose from, Access Bank has simplified getting access to quick loans in Nigeria. To make it easier for you, they have different channels with which you can conveniently access their loans and make more enquiries. Some of their channels include their Access Mobile App, Internet Banking, WhatsApp Banking, and QuickBucks App.
Also, you can walk into any Access bank branch to access the Development Bank Loan.