NCash is a stable and secure online loan platform that provides you with easy, instant, flexible personal loans. Basically, this app offers you instant loans of up to N100,000 without you needing to do any paperwork or having to pay any access fee. Also, all loans on this platform are collateral free. To obtain an NCash loan, read carefully and follow the simple guidelines below.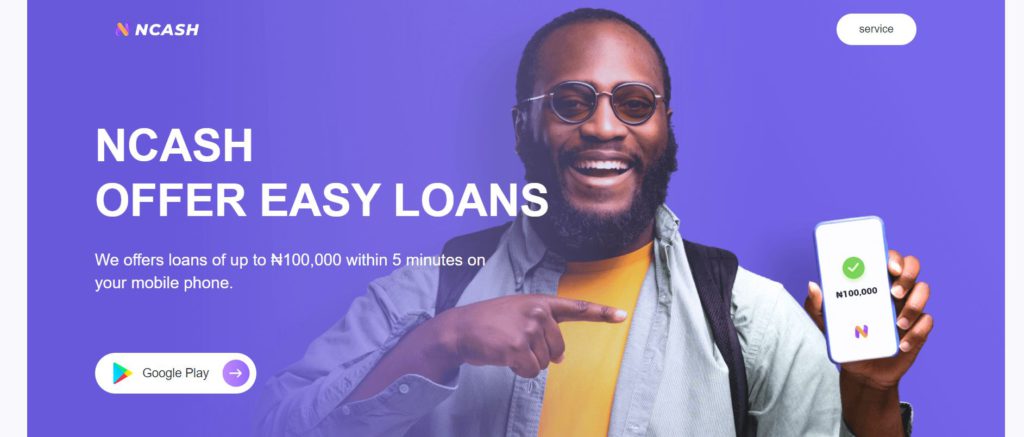 How can I apply for an NCash loan?
To get an instant loan from NCash, follow these easy steps: 
1. First, download and install the NCash app to your device from Google Play Store.
2. Next, kickstart your registration by entering your BVN number in the online registration form. Follow this step by filling out other details.
3. Choose the loan product you would like to register for and apply for it.
4. Lastly, enter your basic details, cross-check them, then submit the loan application. The loan will be paid to your account as soon as your loan is approved.
What is the interest rate on NCash Loan?
The interest rate on loans you take from Cash varies between 0.1% to 1% every day. You have a maximum APR of 14% with no service fee and an overdue fee of 2.5%. One major factor that can influence your interest rate is your credit score and creditworthiness. Basically, this means that your interest rate will most likely be different from others. 
---
Get a loan up to N100,000 at the best affordable rates in Nigeria
Did you know that you can now you can compare interest rates from different lenders with our loan simulator and get the best deal? Making an informed loan decision requires comparing different loan offers before making a commitment. Through our simulator, you can see at a glance, loan offers coming from different lenders in less than 5 minutes, so you can make the right decision regarding your financing. Try it today
---
What is the Loan amount on NCash?
The NCashLoan amount begins from a minimum amount of 1,000 NGN to a maximum amount of 100,000NGN depending on your creditworthiness. Usually, the loan term varies between 91 days – 120 days. As a new borrower, your loan term may be very short, however, the platform will increase if you build their trust by borrowing and paying back on time.
Is NCash legit or a scam?
NCash loan is very legit and really provides loans to people in need. However, this loan app will obtain the details of all contacts when you are registering and they will call them if you fail to pay back your loan.
So, make sure you have a way to pay back your loan on or before the due date. Also, it will be wise for you to check the reviews the app has on Google Play Store to see how the app works.
How can I download the NCash mobile app?
The NCash app is only available on the Google Play Store. To download this app, kindly follow these instructions:
1. Search for the Google Play Store app on your android phone and open the app.
2. Next, search for "NCash"
3. Download the app then install it. Thereafter, you can move ahead to borrow a loan.
How can I contact NCash?
If you need to contact NCash's customer service you can just reach them through the following ways:
Address: Lateef Jakande Road, Ogba, Ikeja, Lagos, Nigeria
Email: customercare@Ncash.com
Website: www.9ncash.tech
Bottom Line
The NCash loan is legit and not a scam because they really provide people with loans. However, you need to be careful not to reveal sensitive information on this app because it is not regulated or licensed by any authorised government agency in Nigeria. It is up to you to stay safe with your transactions. 
Do you need a loan? Be sure to visit this loan platform that allows you to compare loans from different lenders in minutes. It offers the best and ensures that you get nothing less.