We all need a little help now and then. No one is an island, and to be honest, going far is always easier when you have support. Support and help can be quite hard to find, but sometimes there is an olive branch just waiting.
In this article, we talk about one of such olive branches; the Lagos State Employment Trust Fund, what it entails, and everything you need to know.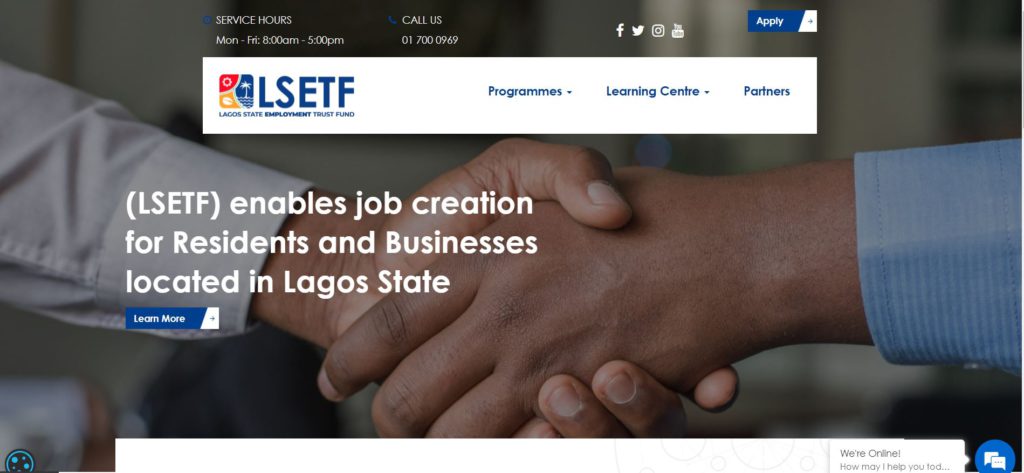 What is the Lagos State Employment Trust Fund?
Small and medium-scale enterprises or micro-businesses can find it difficult to stay afloat. Whether it is cash flow problems or the inability to break even, the challenges they face are many. In recognition of this, they set the Lagos State Employment Trust Fund up.
Also, read more on Federal government loans for small businesses in Nigeria.
The primary aim of the LSETF
The Lagos State Employment Trust Fund (LSETF) is an initiative set up by the Lagos State Government. The initiative is an extension of the government's will and desire to grow and develop the economy of Lagos by providing access to financial help to small, medium-scale enterprises and micro-businesses that have the state as their base of operations.
The enterprise provides loans to startups, small and medium-scale enterprises, or to sustain existing ones. Recognizing the scarcity of white-collar opportunities, and the resulting increase in unemployment, the LSETF seeks to combat this negative trend by helping keep alternative means of employment alive.
---
Get a loan up to N100,000 at the best affordable rates in Nigeria
Did you know that you can now you can compare interest rates from different lenders with our loan simulator and get the best deal? Making an informed loan decision requires comparing different loan offers before making a commitment. Through our simulator, you can see at a glance, loan offers coming from different lenders in less than 5 minutes, so you can make the right decision regarding your financing. Try it today
---
How much is available in the Lagos State Employment Trust Fund?
Micro businesses are eligible to get amounts up to N500,000 in loans at 5% interest rate per annum. Also, small and medium-scale enterprises can get amounts of up to N5,000,000 in loans.
How much interest is charged on the Lagos State Employment Trust Fund?
Microbusinesses can get up to N500,000 at an interest rate of 5 percent per annum. They charge the same 5 percent interest on loans given to small and medium-scale enterprises.
Pros and Cons of the LSETF
The pros of the LSETF are that it is a low interest loan, and it offers a high loan amount. However, its major con is that they only restrict it to Lagos State.
Eligibility requirements for the Lagos State Employment Trust Fund
These are the requirements that render you and your business eligible for the LSETF
You need the following;
Government Identification
Notarized Guarantor Forms
LASRRA (Lagos State Residents Registration Agency) Certificate and Tax Identification Number
Training Certificate
Passport photographs
Evidence that you have incorporated your company with the corporate affairs commission. Your CAC Certificate.
You can also find out where to get loans in Lagos here.
CONCLUSION
If you're looking to start your own business or you're looking to grow and sustain it, an influx of cash is enough to settle those needs. Start-Up loans from the government like the LSETF are a significant source of financial help.
Start or grow your own business with the help of a government-backed Start Up Loan and free business support. A great alternative for individuals looking for business loans to fund their start up.
Seeking business support through loans? Then you should consider the Lagos State Employment Trust Fund.
You can obtain a comprehensive loan, tailored to your specific needs by using this platform. Basically, it allows you to compare loans from different lenders across Africa, ensuring the best option doesn't slip through.