Skystone capital loan and investment company is one of Nigeria's leading financial institutions. The company seeks out, funds, and mentor small and medium-sized enterprises (SMEs). Also, they continuously lead any SME they mentor till it reaches full maturity. The investment company is reputable for financing businesses that need funds to execute contracts.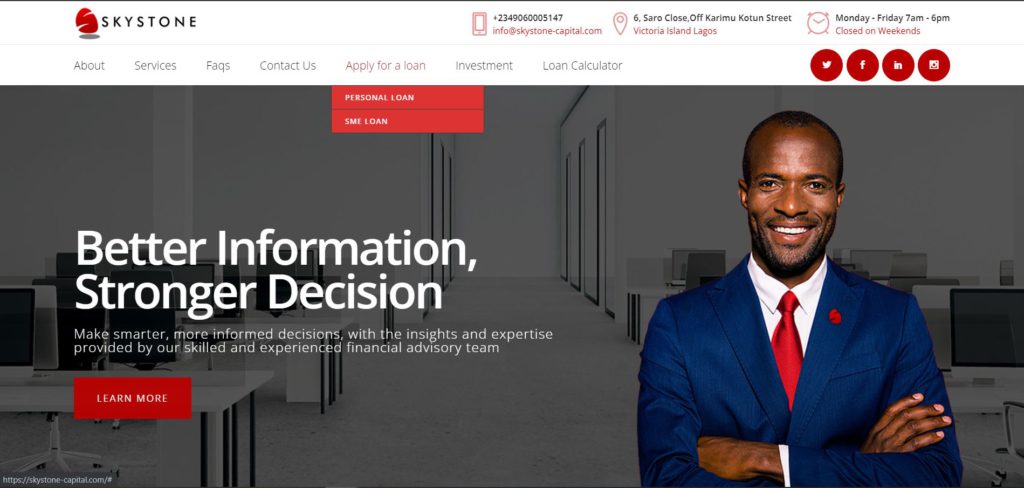 An overview of Skystone Capital loan and investment company
Skystone capital loan and investment company was founded in 2018. Basically, they provide financial services and mentoring to SMEs. This Lagos-based company operates under the license of the Central Bank of Nigeria. In addition, it is led by banking experts who vouch to provide assistance to retails and SMEs. They are known to be one of the most reliable financial institutions in Nigeria.
What are the products and services offered by Skystone capital?
The company provides a wide range of services. They include:
1. SME funding
It is a well-known fact that a lot of SMEs will need funding to execute contracts at some point. Skystone capital resolves this problem by offering loans to businesses in need. Also, the type of loan financing may vary depending on what the business needs it for.
2. Personal financing
The company offers a number of quick consumer loans to professionals in Nigeria. The maximum loan amount any qualified applicant can receive is solely determined by their income. More importantly, the loan is subject to terms and conditions which should be adhered to completely. Within 24 hours, a qualified applicant will receive the loan.
---
Get a loan up to N100,000 at the best affordable rates in Nigeria
Did you know that you can now you can compare interest rates from different lenders with our loan simulator and get the best deal? Making an informed loan decision requires comparing different loan offers before making a commitment. Through our simulator, you can see at a glance, loan offers coming from different lenders in less than 5 minutes, so you can make the right decision regarding your financing. Try it today
---
3. Fund management
Basically, the financial institution manages funds on behalf of its clients. They focus on managing tenure funds and target savings. However, client fund management is based on tenure and the rate agreed upon by both parties. 
4. Leases and debt factoring
The company focuses on lending services to businesses for a specific period of time. Also, they purchase debts from customers at a discount and make a profit from their collection.
5. Financial Advisory
Skystone capital offers financial advisory services to customers for a specific fee or commission. In simpler terms, you can pay them to advise you on how to manage your finances.
Also, read more on how to borrow money online as a business.
How can I apply for a Skystone Capital loan and investment company loan?
You can either apply for a personal or an SME loan. Below are the steps to apply for either of the loans on Skystone capital:
1. Personal loan
To apply for a personal loan, follow the steps:
Log into their official website and click on apply for a loan
Click on apply for a personal loan
Go ahead and fill in the form with your personal details
Thereafter, you can submit and await a response from them
2. SME loan
To apply for an SME loan, follow the steps below:
Log into their website and select apply for a loan
Click on apply for an SME loan
Next, you can input all your details on the form.
Lastly, submit your form abs wait for a response
What are the requirements to be eligible for a Skystone capital loan?
To be eligible for a loan, you will require the following:
A legit monthly income
You must be between 24 and 60 years old
A clean report from the credit bureau
No history of returned cheques
A recent passport(not older than 6 months)
Your salary bank statement for the last 6 months
NUBAN cheque leaves for the period of the loan
Your Staff Id card
Employment letter
Utility bill
A valid Id card
Basically, these are the necessary requirements to obtain a loan from Skystone capital loan and investment company
Do you need a loan? Be sure to visit this loan platform that allows you to compare loans from different lenders in minutes. It offers the best and ensures that you get nothing less.
How can I contact Skystone capital loan and investment company?
You can contact Skystone capital through the following ways:
Address: 6, Saro close, off Karimu Kotun Street, Victoria Island Lagos
Phone number: 09060005147, 09060005148, and 09060005149
Email address: info@skystonecapital.com
Website: www.skystonecapital.com
Closing thoughts
Skystone capital is a financial institution that not only funds businesses but helps them to reach their full maturity. This feature makes them unique and different from others. If you're an SME owner seeking funding, this is one of the options you can trust.