Last updated on December 12th, 2022 at 06:40 am
Are you stranded and need quick cash that is guaranteed to cover your needs? The To U loan app is definitely what you need. Basically, this credit app is a owned by Nigerian company based in Abuja. It aims to provide Nigerians with quick access to fast loans. Read the information below to learn more about this credit platform and how to apply for a loan on it.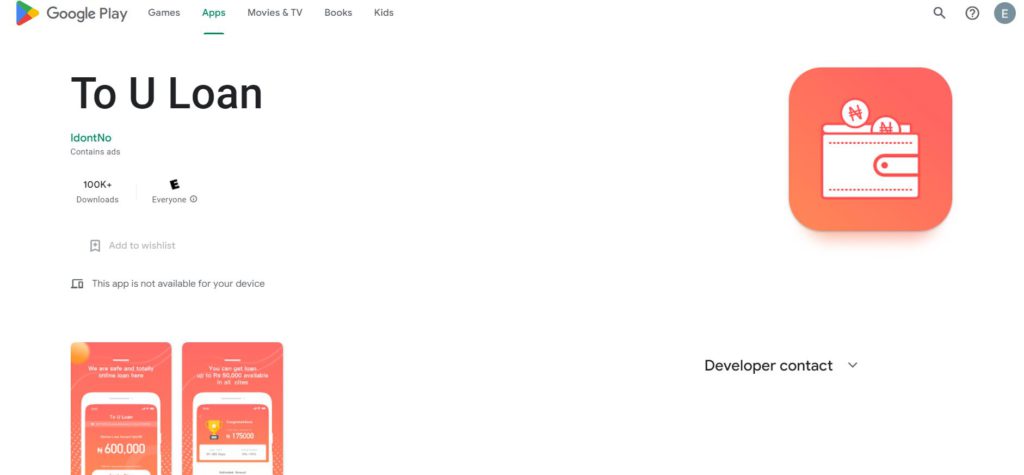 How can I apply for a loan on the To U platform?
To apply for credit on this fast platform, follow these steps:
1. Download the To U mobile application on Google Play Store.
2. Next, install the app and open an account on the platform with your personal details.
3. Once the last step is successful, enter the amount of loan you want to apply for and submit your application. You should receive an alert in a few minutes.
Read Also: How Can I Get N50,000 Instant Loan?
What is the interest rate on To U Loan?
The To U platform charges you a maximum Annual Percentage Rate (APR) of 30%, while the service charge is between 4% and 6%. For instance, if the amount of loan you took out is ₦2000 with an interest rate of 30% per annum and a loan tenure of 180 days, after deducting the usual processing fee, the interest expected is:
Interest payable = ₦20000 * 30% / 365 * 180 = ₦ 2958
Service fee = 20000*6% = ₦ 1200
You will receive ₦20000 and should pay back ₦24158.
---
Get a loan up to N100,000 at the best affordable rates in Nigeria
Did you know that you can now you can compare interest rates from different lenders with our loan simulator and get the best deal? Making an informed loan decision requires comparing different loan offers before making a commitment. Through our simulator, you can see at a glance, loan offers coming from different lenders in less than 5 minutes, so you can make the right decision regarding your financing. Try it today
---
What is the loan term on To U Loan?
The To U loan platform offers borrowers a term between 91 days – 210 days. So, the duration of your loan will vary depending on the amount of loan you borrowed. Also, this is privately owned, unlike GEEP loans that are administered by the government.
What are the advantages of To U Loan?
Here are the advantages To U loan has over other online loans:
1. Maximum Loan Amount. You can get up to 300,000 instantly.
2. Flexible payment as well as low-interest rate
3. Flexible loan payback term
4. Fast loan processing time and the application process is 100% online
What is the eligibility requirement for To U Loan?
To be eligible for a loan on To U, you have to meet these criteria:
1. Be a Nigerian Resident
2. You must be between 22-50 years old
3. Have a good credit score
Is the app secure?
Yes, this loan app is safe for customers to use. According to the platform, all transactions on the app are secured via SSL encryption. Also, As a borrower, the platform will not share your personal information without your direct consent.
How can I download the To U Loan app?
To download the To U app, follow these three steps:
1. First, launch the Google Play Store app you can find on your android phone.
2. Once you open it, search for "To U Loan"
3. Lastly, download and install the credit app instantly. You can commence your loan application process immediately.
Here are two ways you can contact To U loan:
Office Address: 1320 Shehu Yar'adua Way, Mabushi, Abuja, Nigerian
Email Address: survice@cxhstwlkjwwgc999.onexmail.com
Bottom Line
The To U loan app is your regular Nigerian online application. You can read through the details above to learn how to apply for a loan on this platform. However, before you apply, ensure you have a valid means of repayment.
Need a loan? Kindly check out this platform that allows you to compare loans from several lenders in minutes. This would help you make the best decision for you.