It may seem impossible but you can take out a loan from your pension account when you are out of jobs. With the Stanbic IBTC pension loan benefit, pension account holders can take out a loan from their account before retirement. Basically, once you are out of a job for at least 4 months, you become qualified for this loan. Here is what you should know about the Stanbic IBTC Pension Loan.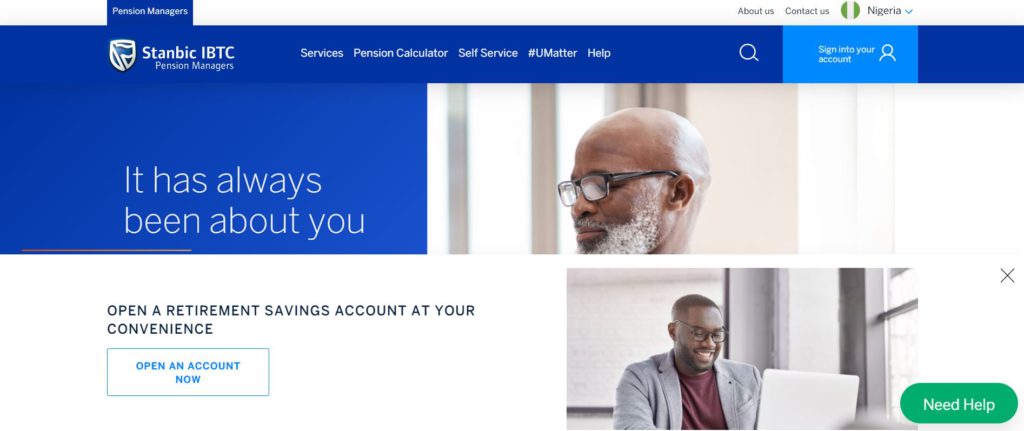 An Overview of Stanbic IBTC Pension
Stanbic IBTC Pension Managers Limited, a subsidiary of Stanbic IBTC Holdings was founded on 19 May 2004. Basically, this company provides you with a pension account where you can save toward your retirement. They practice good corporate governance and aim to preserve the value of the money in your Retirement Savings Account (RSA). 
What Services Does Stanbic IBTC Pension offer?
Here are the services this pension organisation offers:
1. Retirement Savings Account (RSA)
The company designed the Retirement Savings Accounts to enable you to set aside funds, which they will invest on your behalf. You can start saving now to secure your future after retirement.
2. Micro Pension Account
The company designed the Micro Pensions account for individuals who are in the informal sector. Basically, this account allows entrepreneurs and business people to save towards retirement. These set of individuals can also partake in retirement and benefit from the scheme.
---
Get a loan up to N100,000 at the best affordable rates in Nigeria
Did you know that you can now you can compare interest rates from different lenders with our loan simulator and get the best deal? Making an informed loan decision requires comparing different loan offers before making a commitment. Through our simulator, you can see at a glance, loan offers coming from different lenders in less than 5 minutes, so you can make the right decision regarding your financing. Try it today
---
3. Voluntary Contributions
Voluntary Contributions (VCs) are the extra contributions that you can make alongside the compulsory contributions that your employer pays. Basically, to make this contribution, all you have to do is notify your employer to make the deductions from your monthly salary. It is as simple as that.
4. Retirement
Your employer is mandated to contribute a certain amount of your salary towards your pension. Basically, this fund will be invested with the expectation of assuring you still earn even if you are retired or out of employment. 
According to the Law of the Pension Reform Act (PRA) 2014, a pension contributor is considered to be retired when he/she is above 50 years old and out of employment.
How Can I Open A Stanbic IBTC Pension Account?
To open a Stanbic IBTC pension account, follow these instructions below:
1. First, visit their official website, www.stanbicibtcpension.com
2. Next, click on "Open a Pension Account"
3. Thereafter, click on your preferred type of pension plan and fill out the application form.
How Can I Obtain a Stanbic IBTC Pension Loan?
The good news about this pension company is that you can take out a loan from your pension account if you are temporarily out of employment. Basically, all you have to do is to apply for 25% of your pension funds to take care of your needs during this period. However, you need to be out of a job for at least 4 months to access this loan. Some documents you need to obtain this loan include:
1. The Letter of termination of appointment that your former employer or your letter of resignation.
2. A letter from you asking for a specific percentage of payment from your RSA balance (maximum of 25%). 3. Your Pension fund account lasts three months' payslips.
4. Bank statement.
5. Birth certificate or a document showing a Declaration of age
6. A Letter from your employer which verifies full payment of all the contributions made to your RSA (for private sector workers).
7. The filled application form (Stanbic IBTC will provide this), and four passport photographs.
What requirements do I need to open a Stanbic IBTC Pension Account?
To complete the registration process, you will need to gather and submit the following documents:
1. One Passport Photograph (white background sized 4"x4")
2. Proof of Address
3. Active Bank Statement (within the past 3 months) containing current address
4. Permanent Voters card (PVC)
5. Valid means of Identification
6. Letter of Employment
How Can I Download The Stanbic IBTC Mobile App?
To download this app, follow the steps below:
1. Go to Google Play Store or the App Store on your mobile device.
2. Next, search for "Stanbic IBTC app"
4. Lastly, download and install the app
How Can I Contact Stanbic IBTC Pension?
Here is how you can contact Stanbic IBTC pension:
Address: The Wealth House, 1678 Olakunle Bakare Close, Off Sanusi Fanfunwa Street, Victoria Island, Lagos, Nigeria.
Telephone: +234-1-2716000
Email Address: PensionSolution@stanbicibtc.com
Website: www.stanbicibtcpension.com
Conclusion
The Stanbic IBTC Pension Loan is a loan you can obtain if you have an active Stanbic IBTC Pension account. As long as you meet the specified requirements, this loan is easy to get. To learn how to obtain this loan, just follow the guidelines above.  
You can obtain a comprehensive loan, tailored to your specific needs by using this platform. Basically, it allows you to compare loans from different lenders across Africa, ensuring the best option doesn't slip through.