Last updated on August 14th, 2023 at 04:06 pm
The concept of lending is often discussed in terms of the borrower. But what about the lenders and those who are neither of the both- the credit bureau? In a recent webinar held on the 13th of October 2022 on the topic; rethinking the concept of lending taught attendees how the lending space keeps evolving and the need to address the recent changes.
The speakers teamed together to rethink this concept because of the demanding customers who were more connected than before, the business environment is getting more competitive, the emergence of disruptive technologies and the need for income streams for lenders.
"To rethink the concept of Lending, we must start with the customer and work backwards to the lender's offering," one of the speakers, Abbasiama says.
Another speaker, George Badejo continued by saying that: "Lending gives us the opportunity to change things because it's not just about money—it's about the obvious. When you lend someone money, be sure to collect all the data you need, brief them on the need to be financially literate to avoid loan default."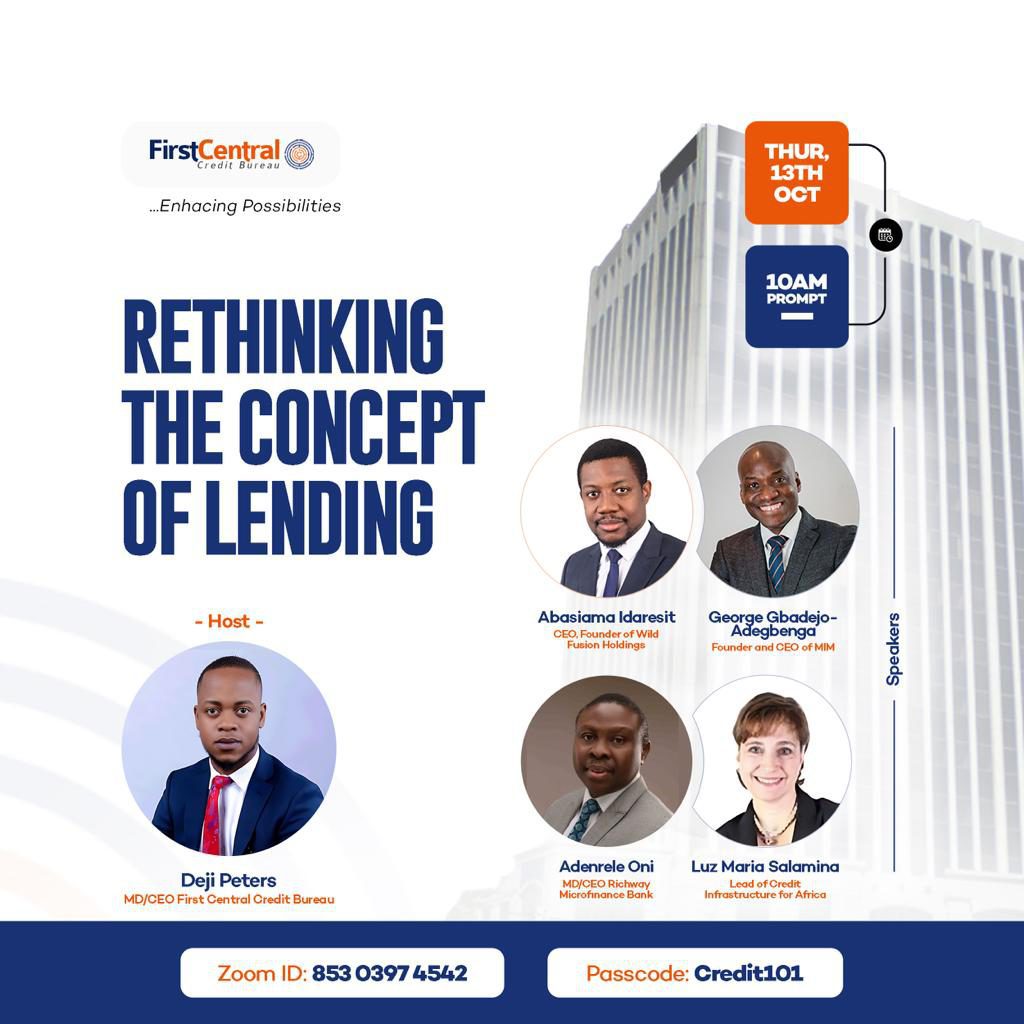 What is Rethinking the Concept of Lending
Rethinking the concept of lending is exploring the idea and innovations that will promote lending to customers who are more connected than before, bring ways to tackle the competition in the lending space, explore the emergence of disruptive technologies and the need for more income streams for lenders.
Another way to rethink the concept of lending is by promoting the idea that lending must always be profitable for both parties involved. In fact, sometimes it isn't! There are plenty of times when one person owes money and doesn't have access to cash or credit cards, but someone else does—and vice versa. Lending must profit all parties involved.
About Rethinking the Concept of Lending
The CEO of FirstCentral Credit Bureau, the first licensed credit bureau by CBN, Deji Peters saw that the credit bureau is at the core center of lending and the need for the body to address the changes in the evolving lending space with their new product and how alternative data would promote inclusion in lending, hosted a webinar on 'Rethinking the Concept of Lending'.
The speakers at the webinar were Abasiama Idaresit, the CEO and Founder of Wild Fusion Holdings, Adenrele Oni, the managing director and chief executive officer of Richway Microfinance Bank, George Badejo- Adegbenga, a British Nigerian lawyer within the lending and Fintech space, and Luz Maria Salamina, the principal operations officer, Lead of Credit Infrastructure for Africa at international Finance Corporation.
They all jointly affirmed that the lending space is evolving and there was a need to talk about it, hence the webinar.
It's easy to think of lending as a simple act: You give someone money, and they pay you back. But it's not quite that simple. Lending is actually a highly nuanced process that can involve many different actors and processes.
First, there's the act of borrowing money from another person—the "lender." This person can be an individual, a bank, or any other entity that provides loans.
Next, there's the act of repaying the loan—the "borrower." This person might be an individual or a company that takes out a loan.
Finally, there's the process by which the lender and borrower come together to exchange funds—the "lending process. With all of these processes, the credit bureau is still at the centre.
Rethinking the Concept of Lending by Abasiama Idaresit the CEO and Founder Wild Fusion Holdings
Abasiama explained that for the past several years, the concept of lending has been evolving. There are many reasons why this has occurred and the need to rethink the concept of lending, such as the rise in technology, more connected demanding customers, and more competition in the business environment. But I believe that there is a deeper issue at hand and ways to approach it.
A simple practice Guide ( 3i principle)
Initiate: This is where you start with your customers, their needs and then moving backwards to what you have to offer.
Iterate: This entails improving on your approach to lending and constantly learning from customers' interactions.
Integrate: This is where you bring all your approaches to lending together. Examples of these approaches include: traditional and digital approach, channels integration, business strategy, leadership and culture.
He went further to explain that the credit bureau is at the core center of these three principles mentioned above. We no longer go online, we live online, says Abasiama. Lenders must act quickly to give borrowers exceptional digital lending experience.
Lenders would see operational costs fall and increase in revenue as they unlock technology. With this, the technology and demand will continue to exist.
He finally introduced his products @ https://loanspotAfrica/lenders which borders on giving out loans, debt collection as a service and origination as a service.
Complete Overview of the Credit Market of FirstCentral by Deji Peters
FirstCentral Credit Bureau is an information and risk management company that compiles credit information on individuals and business entities. They explored their credit market and listed the 4 overviews in their credit market;
Key factors: This includes the regulatory frameworks, CBN, data availability, data accessibility, information technology and technical knowhow skills.
Challenges: Here you see the data quality, compliance, low awareness of credit bureau business and low patronage from non financial sectors.
Prospect: It borders on Financial inclusion, improved risk management, easy access to loans, interest rate reduction, reduction of high financial constraints,. Transparency in financial system and check prospective tenants and employees
Players: the players here are banks (CB's), MFB's (PMI's), FI companies, government agencies, AMCON (NDI's), non-financial, non-banks and cooperatives.
Products and Services of FirstCentral Credit Bureau
The products and services of FirstCentral Credit Bureau centers on three key areas:
Commercial: on this section they offer detailed credit, basic credit and directorship
Consumers: On the consumer angle, they offer, X-Score, NicoCreScore, detailed credit, basic credit, directorship, dud cheque, trace credit
Services: Their services include; training on credit and financial literacy, web service (API), portfolio monitoring, credit information update, data analytics, batch reporting, customized request and directorship credit reporting.
Importance of Credit Reporting in Offering Loans by Luz Maria Salamina
One of the speakers Luz Maria Salamina spoke on the importance of credit reporting in offering loans and she listed that:
Credit reporting safeguards the health of portfolios
Expand access to the underserved segment
Enhance and safeguard financial system stability.
She went further to elaborate how crisis and innovation bring new challenges and opportunities. This goes to explain that:
COVID-19 changed the credit landscape- building resilience for future crisis
New source of data and digital development – brings a new bet for inclusion
Alternative data – brought open data
New lending scheme – brought BNPL
Rethinking the Concept of Lending in the aspect of experiences and requirements of prospective borrowers by Adenrele Oni
Adenrele Oni quoted that in 2021, the loan disbursed to the economy was 3.5 trillion where 91.5% went to the business sector. He explained that in sharing credit by banks, corporates are considered more. The analysis is seen below:
Corporate – Takes the lion share of credit because of its low risk and high value of NPL. They are price givers.
SME: Paltry share of the credit because of their high risk. They are price takers.
Micro-business: Low access to credit because of lack of credit history.
Startup: No access to credit because of no credit history.
HNI/Affluents: Shares credit with SME because they do mid risk business with low NPL and they are price takers.
Formal workers: Has better share of credit with high risk, high NPL and also price takers
Informal workers: Low access to credit because they lack credit history and they are also price takers.
He went further to explain that why individuals and business are denied loans is because of so many factors like:
KYC rejection by the bank
Bank credit history and
Credit worthiness.
How Lending and Borrowing Works by George Badejo- Adegbenga
George who was the last speaker, explained that, how lending works is by the lender or the company who has money and is willing to lend it out in consideration for an interest over a given period of time.
Sources of funds
Investors money
Debts
Savings from customers
What determines interest rates
Risk associated with borrowers and
Associated cost of lending
Why is access to finance still a challenge in Nigeria and across Africa
Proximity to banking
Poor financial literacy
Not enough legitimate players to serve the growing market
Relatively high interest rate products
Limited data on prospective consumers and their propensity to repay and
Difficulty verifying consumer current residential address.
Solutions to the problems if access to finance
Education
More lenders acting responsibly in the aspect of data sharing and whom they lend to
Credit bureau should consider what is of great value to them (maximum and minimum participation)
CBN needs to carry on with it's goal of licensing microfinance banks, mobile banks, finance houses and the creation of agents banks
State money lenders should be transitioned under the CBN regime.
Related post: The Concept of Lending – Understanding How Lending And Borrowing Work
Conclusion
The webinar ended with the backend engineer from FirstCentral Credit Bureau taking us through their web products that will be launched soon which will be useful to individuals and businesses.
This product goes further to explain that the concept of lending is changing as technology becomes more advanced. One of the biggest shifts in the field has been how lending is done with credit bureau at the centre. FirstCentral Credit Bureau is here to change the phase of lending in Nigeria.
I believe you enjoyed the topic and learnt something new? If you have any suggestions, questions and comments on rethinking the concept of lending, direct it to m.ohalete@firstcentralcreditbureau.com.