About Palmcredit
Palmcredit is an online platform owned by Newedge Finance Limited where you can get a loan in Nigeria without collateral. With Palmcredit, you can access loans within minutes without having to worry about providing any collateral.
One unique thing about Palmcredit is its attractive low interest. Perhaps this makes it a popular loan provider in the country.
Anyone can apply for a Palmcredit loan. However, Palmcredit requires you to download their app from Google play store. The company aims to make getting access to quick cash and short-term loans with a smartphone app as easy as possible.
The Palmcredit Loan App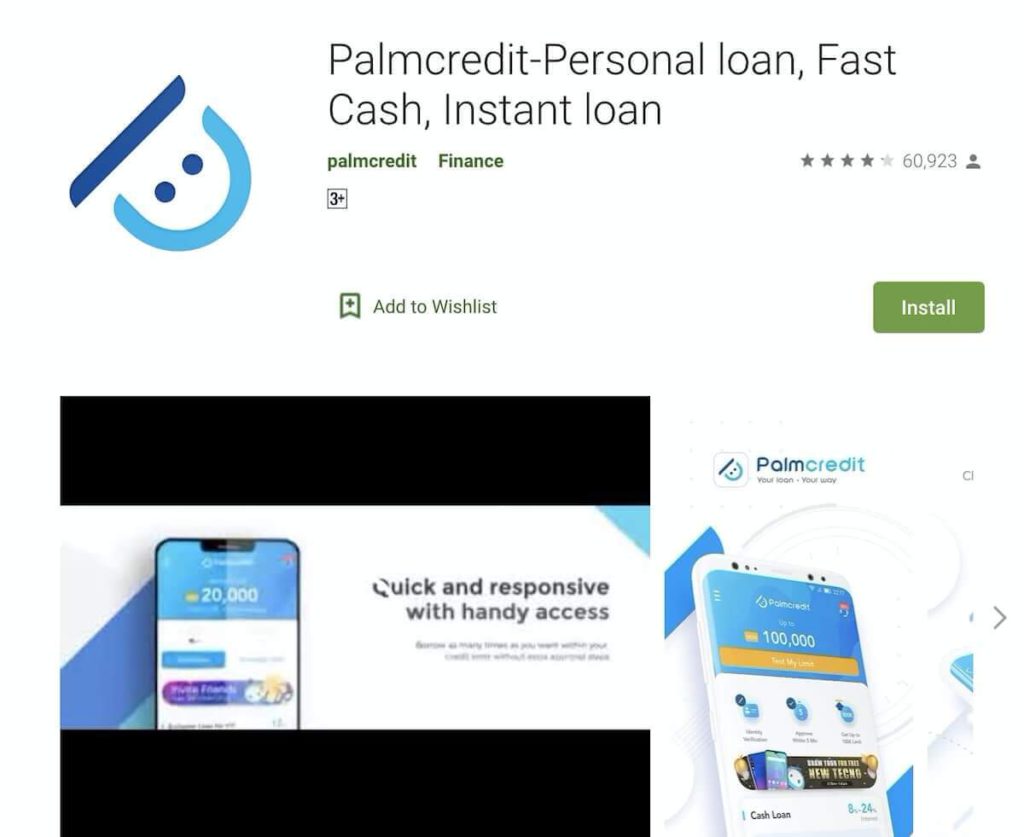 Ratings – 4 star rating with over 60k reviews
Downloads – Over 1m downloads
Offered By – Newedge Finance Limited
The Palmcredit app is where the magic happens. As earlier mentioned it is only possible to get a loan from Palmcredit through their app on Google Playstore. You will need to have an android phone in order to enjoy their services.
The Palmcredit app requires about 8mb of storage to successfully install it on your device. The installation takes less than 5 minutes depending on how fast your internet is.
How to Get a Palmcredit Loan
1. Download The Palmcredit App: There are two ways to download the Palmcredit app. The first option is to visit their official website. For this, you will need to input your mobile number to get the app. The second way is to download the app straight from the Google play store.
2. Complete Your Registration: After your successful installation, the next thing to do is to register. There will be on-screen instructions that you will have to follow. Provide all the necessary details the platform asks for. In addition, you may have to verify your phone number. Palmcredit will send a code to your mobile phone. All you have to do is input the code in the app to complete the verification process
3. Apply for Your Loan: Having completed your registration process, you can then apply for a loan. It's as simple as ABC.
4. Get approval
Once you have applied for the loan, you just have to wait to get loan approval. This usually does not take too long. Just make sure you provided the correct information. Once you get your approval, you will then receive the loan. You can decide to send the money to your bank account right away.
How Much Loan Can You Get from Palmcredit?
You can borrow up to ₦100, 000 from Palmcredit. Also, note that you can adjust the maximum amount at any time!
Palmcredit Loan Interest Rate
Their loan interest rate is between 14% to 24%, Equivalent Monthly interest 4%~4.7%, the Annual Percentage Rate (APR) on a Palmcredit loan is 48%~56%
Palmcredit Repayment
Palmcredit loan repayment is as simple as getting the loan. Log into the Palmcredit app and click 'my loans'.
Next, select the amount you want to repay. You can make the payment with your card.
Note, If you are unable to make the payment on the app, you can pay to their account number. Ensure you speak to their customer care before you make a direct payment to their account.
Palmcredit Repayment Account Details
Account name: Transsnet Financial Nig LTD – Consuming Finance
Account number: 0772692676
Loan term
The Palmcredit loan term is between 14 days to 180 days.
Palmcredit Contact
Palmcredit has a customer service hotline that is available from Monday to Friday, 8:00 am – 5:30 pm Nigerian time. You can reach them on the Palmcredit contact number – 0700 7256 4357 for your questions and complaints.
Our Verdict
While their interest rates may be relatively on the high side, their application process is fast and reliable. Furthermore, there are flexible payment options to make your loan repayments more convenient. All in all, Palmcredit is a loan platform that is worth the try.