Last updated on August 22nd, 2021 at 01:13 am
The recently rebranded financial institution, Microcred Nigeria, is a subsidiary of Microcred Group. Yes, you read right, they recently rebranded to Boabab Microfinance Bank.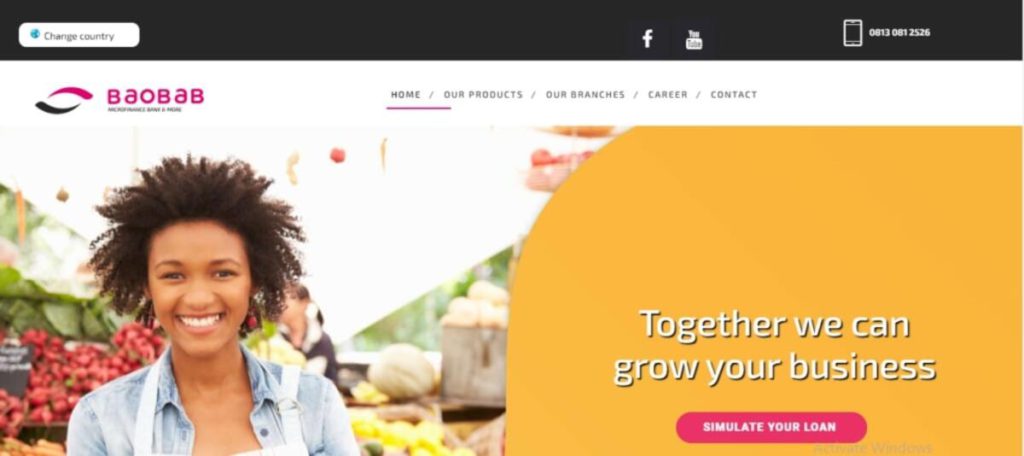 Therefore, note that Microcred Nigeria and Boabab Microfinance banks are the same financial institution operating across Africa and China. The rebranding happened about two years ago.
Now let's get down to what they can offer.
Previously a credit provider to micro-entrepreneurs, Boabab expanded its services back in 2018 to address a broader range of customers. They offer savings and credit services to customers.
In this article, we would discuss their services.
How credible is Boabab Nigeria?
Boabab Nigeria has been in operation for little over a decade, and in this time, became one of the leading providers of financial services in Africa.
They serve over 700,000 customers and have at least ten branches in Lagos and 7 in Kaduna. So, therefore, yes, they are a credible institution. Boabab Nigeria is not going anywhere soon.
What are the services provided by Boabab Nigeria?
Boabab Nigeria services target entrepreneurs, traders, and small to medium-sized businesses. They offer services in the following areas:
Credit
Savings
Boabab Credit
Before we go into details of Boabab Nigeria's credit services, they have made things easier for through an online simulator. It is accessible on the official website, www.baobab.bz.
On the site, you can easily simulate your entire loan process ahead of time.
Input the amount you intend to borrow. Then for the duration, you would like the payment to be spread across, and the system immediately displays an equivalent monthly payment schedule in amount with interest.
Note that the simulator does not account for a commission of 2.5% to 5% that they would include regarding the amount you borrowed.
Steps for opening a Boabab Nigeria credit account
Fill out the request form available on the site.
A customer service operative would reach out to you immediately and direct you to the closest agency in your location. He/ She would also answer questions that you may have.
Proceed to the branch as directed and go along with a national identity card and identity photo.
The last step is to open a credit-linked checking account with an advisor which they would assign you.
Boabab Nigeria Loan Legibility:
The qualifications are simple. Are you between ages 18 and 63? Do you have at least 6months of activity on the same premises and a year of experience in your business sector? If yes, then you are eligible.
Also, you can take over one loan at a time.
Boabab Nigeria Savings
With Boabab Nigeria savings, you can open either a current, savings, term deposit account, or savings plan.
Current account: in this account, you can secure your income by making deposits anytime. You can also access your money anytime.
Savings account: This account allows you to increase your income with zero costs of opening fees and transactions.
Term Deposit account: a term deposit is an excellent way to let your money grow. After deposit, your money keeps growing at a steady rate.
Savings Plan: just like the name implies, you can save more, while making your money grow.
Steps for opening a Boabab Nigeria Savings account
The steps for opening a savings account is the same as that of a current account.
Fill out the form and a customer care agent would direct you to their nearest branch. Remember to go with an identity photo and National Identity card.
Opening a savings account is free!
What documents do I need to open a Boabab Nigeria Savings account?
A National Identity card for 18 years old and above, and
Proof of address.
What is the minimum amount I have to deposit upon opening my savings account?
Boabab Nigeria savings account has no minimum compulsory deposit amount on opening. You can depose any amount or not even make a deposit at all.
What else should I know?
Boabab Nigeria Savings has a monthly remuneration of up to 6.5%, which is impressive.
Your money grows by just remaining with them. You also pay no interest, deposit, or management fees for your savings account.
Conclusion
Boabab Nigeria offers a quick and easy way to take loans as an individual or small to medium-sized businesses.
They also provide a considerably low-interest rate on loans taken, which is what has made them one of the fast-rising financial institutions in Nigeria.
Bank with them today for complete ease and quick response.