Microfinance banks come to the aid of the average individual in a time where other institutions can't meet his needs.
They provide hope for the middleman and guarantee a chance to achieve financial dreams with the little at hand. Mainstreet Microfinance bank is one of these elite institutions whose goal is to offer the world with the very best.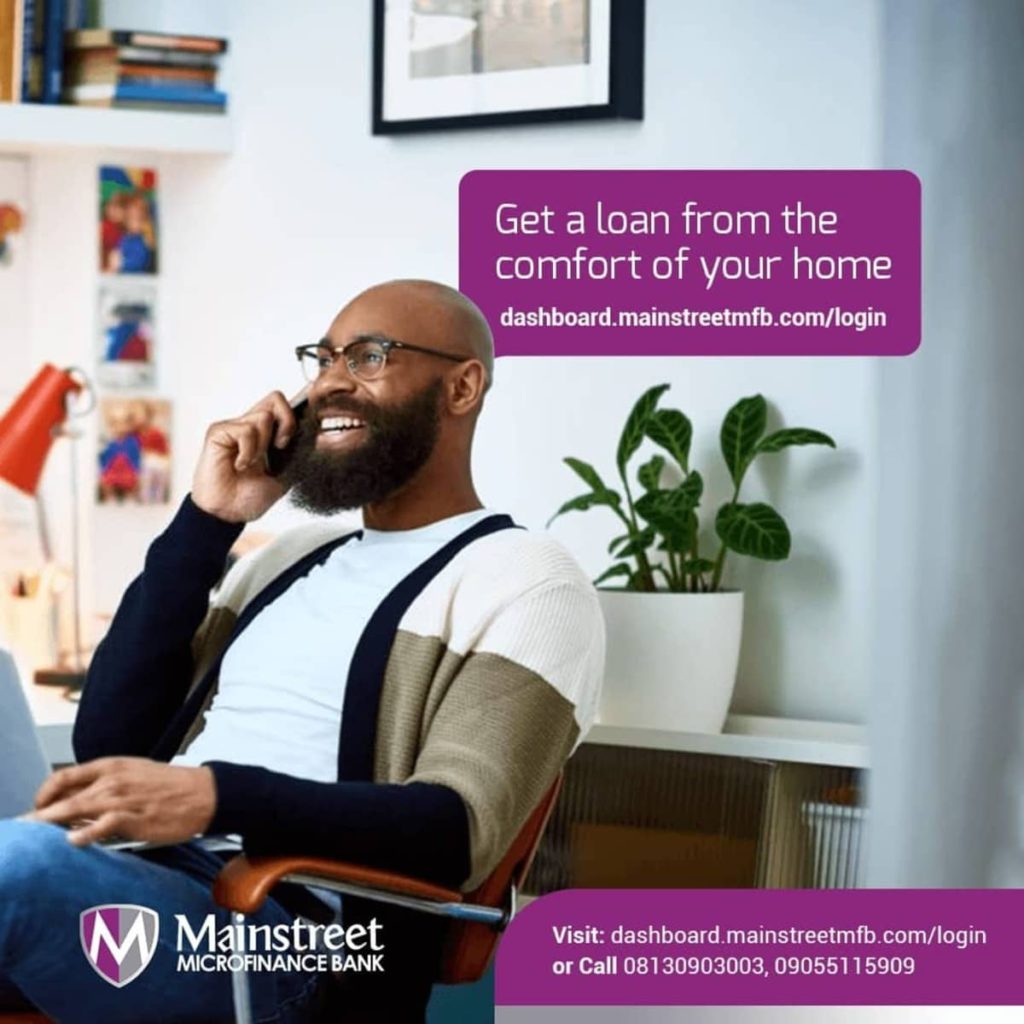 About Mainstreet Microfinance Bank
Mainstreet microfinance bank, formerly known as Afribank Microfinance Bank Ltd, is a private liability company incorporated in November 2008. Ever since it has been meeting the financial service needs of all and sundry in the informal sector.
It also provides micro credits and other financial services for micro/small-scale entrepreneurs and low-income earners in Nigeria.
Mainstreet upholds its core values, which are integrity, innovation, teamwork, leadership, excellence and reward.
What are the Pros and cons of Mainstreet Microfinance Bank?
Pros:
Best loan offers
Flexible collateral arrangements
Easy and convenient repayment plan
Interest rates are highly Competitive
Cons:
They require collateral even though collateral arrangements depend on loan size.
You will need at least two guarantors for the loan process.
Some loans require collateral and guarantors.
You will need to provide a valid ID-card, utility and proof of business ownership.
Loan Disbursements often occur in 3 working days or less upon approval.
What services does Mainstreet Microfinance Bank offer?
Mainstreet Microfinance Bank provides its services in three major categories.
Mainstreet offers its loaning services in several outlets, which includes a
Main Essential:
This service is solely for the purpose of mitigating the financial effects of a global pandemic. They offer businesses that deal with human essentials, e.g. food, health, communication, etc with easy and accessible loans. They provide an easy electronic repayment platform and a 30 days moratorium on loans, among other things. For other lending microfinance banks, you can check out this post on Nirsal microfinance bank.
Main swift cash:
They offer this service to salary earners in reputable organizations and industries. It provides them with quick loans for personal needs during emergency periods. This service requires no collateral, and they make its disbursements within 24hours.
Mainstreet enterprise loan:
This service offers entrepreneurs who require a capital increase with easy loans. It provides an accessible amount of 10,000,000 and a loan tenure of 6-9 months.
Mainstreet equips loan special:
They offer this service to individuals/members of specialized groups, registered associations, or trade unions. Its primary aim is to acquire tangible household or business assets. It provides a 3-24 months pain tenure and relaxed equity contribution
Mainstreet special edu finance:
They render this service to legally registered private school owners. It provides a loan tenure of 6-24 months and offers a loan amount of about 10,000,000
Payee loan:
This is an all-purpose loan system for valid salary earners. It provides flexible interest rate and flexible loan repayment process.
Retail Banking:
Mainstreet offers individual, legal entities and corporate bodies with various banking services, which includes:
Current account individual
Main save individual
Main target savings account
Greater tomorrow individual account
Main fix & Gold individual
Investment:
Mainstreet offers its customers a chance to secure both the present and the future. They offer a Main Treasury Note investment scheme that guarantees and investor with a life long future stream of income.
What is the maximum or minimum amount you can borrow with Mainstreet Microfinance Bank?
Main street offers a minimum loan amount of N50, 000 and a Maximum amount of N50, 000,000. However, the offers made available to each customer depends on his repayment capacity. The basis for assessing this repayment capacity is on verifiable business inventory and some other criteria.
What are Mainstreet Microfinance Bank Interest rates?
The amount of loan borrowed determines the applicable Interest rate. However, their interest rate is very competitive, hence a potential borrower need not fear.
How quickly does Mainstreet Microfinance Bank disburse loans?
Once you meet all the requirements you will receive your money in less than 3 days. As a matter of fact, disbursement may me made in 24hrs.
What are Mainstreet Microfinance Bank Repayment terms?
Mainstreet repayment terms depend on the agreement made between both parties. However, they require that you make payments on a monthly basis.
Mainstreet Microfinance Bank Loan calculator
Mainstreet Microfinance bank provides it customers with easy steps to calculate their loan and repayment process. These steps are as follows:
Input the estimated repayment amount, interest rate, and duration in a month. The calculator gives you a breakdown of the applicable repayment plan.
How can I contact Mainstreet Microfinance Bank?
Contact Mainstreet at its Head office: 94 BROAD STREET, LAGOS ISLAND, LAGOS
Or
Enrico Abutu
08068872336
0708-383-0241
Or
Visit their site: https://www.mainstreetmfb.com/branch-network/
Mainstreet microfinance bank is committed to the financial needs of its customers. They provide easy and quick loan services to augment the financial capacity of low-income earners, entrepreneurs and small businesses.
Their overall banking services are second to none.