Last updated on August 4th, 2023 at 01:36 pm
In desperate situations, people do desperate things to get money at any cost. Most of the times, it is done illegally because they do not have the requirements to get a legal loan. The high demand of people who sort out loans this way is matched by a high number of loan sharks. The question becomes, who is a loan shark? And how do they operate? Well, you would find out by reading this article.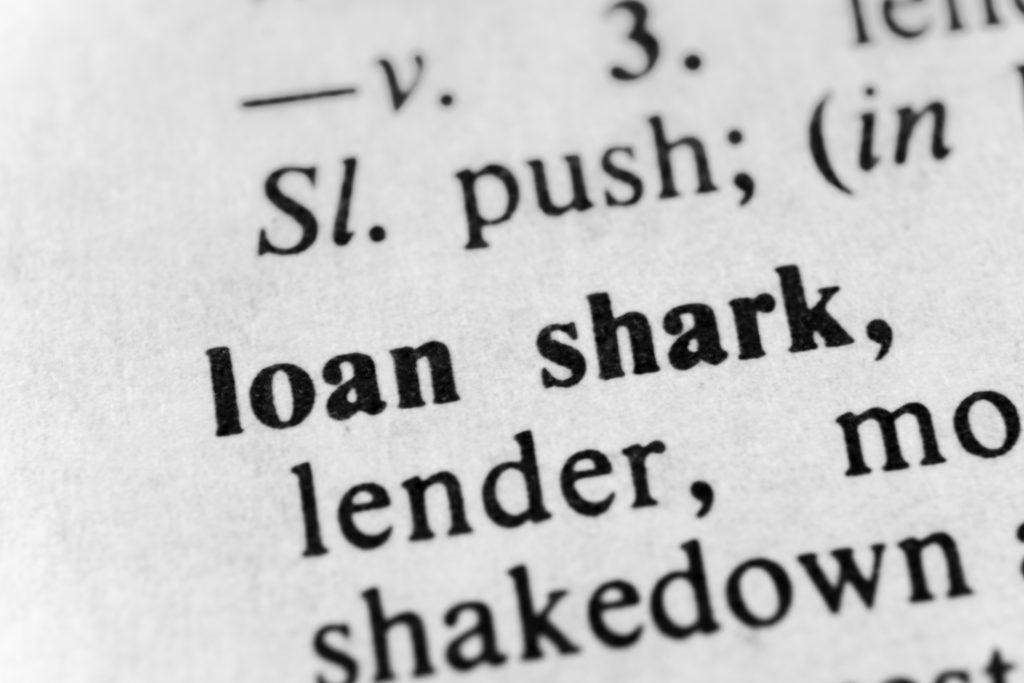 Who is a loan shark?
A loan shark is simply an organization or individual that loans money to people at extremely high rates. Their rates are usually far above the established legal boundaries. Loan sharks mostly employ violent means to collect debts and hold on to high stakes in case you cannot pay up. Generally, an organized crime group or single individual from the group are the loan sharks.
How does loan shark work?
Loans sharks are usually people in the shadows. We often find them in areas with a high poverty rate, or on the internet. They also offer cash from unidentified sources from their criminal network with unregistered entities or personal businesses. Loan sharks operate completely off the books unlike regular financial institutions and do not carry out background checks or credits of borrowers.
The process is simple; they give out a large sum of money and expect the principal with an outrageous previously agreed interest within a time frame. The time frame is usually very short. Most times, the demand can span up to 200% interest with as 30 days time frame. Loan sharks are dangerous and illegal for most clean businesses, which is why it is really best you seek other ways. Read also: Why Federal Government shutdown online loan companies.
Why is a loan shark illegal?
Firstly, loan sharks offer loans at outrageously illegal interest rates. If you cannot meet the repayment date, loan sharks often result to violence to force repayment. Their mode of operation includes threats of violence and blackmails to obtain the repayment. Historically, loan sharks have been known to flaunt illegal and criminal activities in a bid to obtain repayment.
What is the difference between loan shark and payday loans?
Although similar in some ways, loan sharks are not the same with payday loans. Although payday loaners often offer loans at outrageous interest rates within a short time, they do it completely legally. Payday loans are done by the books. They do not adhere to standard usury laws that state the maximum interest rate a lender can charge to be 45% (depending on the state), because they are granted exceptions specially.
In simpler terms, payday loaners can charge that ridiculously high legally, due to government regulations. However, loan sharks' interest rates are still usually higher than that of payday loans. Also, payday loans are obtained through the standard legal procedures between a lender and a borrower. They run background credit checks and require certain documents like proof of employment and income. This information determines the sum they offer to borrowers.
Unlike loan sharks. Payday loaners do not employ violent means in obtaining repayments, although they offer very short terms. In obtaining repayment, standard procedures are followed, and defaulters are reported to the credit bureau.
Are loan sharks dangerous?
Loan sharks often threaten defaulters with legal prosecutions and jail terms when short of payment. Due to their mostly illegal operations and crime connection, we can safely say they are dangerous. However, certain individuals pose as loan sharks to take advantage of the high interest rate benefits, but aren't really dangerous. In all, it is best to abstain from loan sharks completely.
Conclusion
Loan shark business thrives in rural areas where loans are generally inaccessible due to most citizens not meeting the minimum requirement. They are dangerous and result to violent means to recover repayments, asides the problem of demanding outrageous interests.